Quarterback David Carr threw for 372 yards last week against Minnesota, beating his previous career-high output by one yard.

Carr threw for 371 yards last October at Tennessee. Can anybody guess what those two games had in common?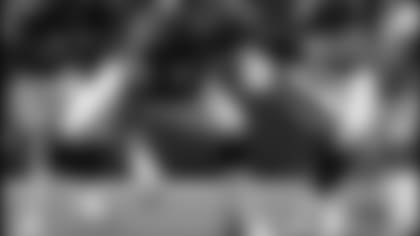 In both instances, the Texans found themselves down 21-0. Houston's running game had to be scuttled quickly. The Texans were able to make a game of it against the Vikings, but it's something they'd rather not try again anytime soon.

"We dug ourselves too big of a hole," head coach Dom Capers said. "We just need more consistent execution."

That's especially true this week as the Texans make the return trip to Nashville. As good as Houston's passing game has looked in recent weeks -- especially Carr and all-world wideout Andre Johnson -- the running game is essential to the Texans' ability to control a game.

Two weeks ago in their win over Oakland, the Texans rushed 40 times for 162 yards and didn't allow a sack. Last week, that rushing number dipped to 52 yards on 17 carries and Houston yielded four sacks.

"It was hard the first half because we only had 17 plays," Carr said. "We missed 3rd and 1, 3rd and 2. We get that and that's a guaranteed six more plays at least. So that was tough – we only had 17 plays at halftime and that's our own fault."

The Texans will need to get that corrected against a Titans defense that ranks third in the NFL in third-down defense. Tennessee opponents have converted just 17 of 53 third-down opportunities, a paltry rate of 32.1 percent.

"Winning on third down a staple of Jeff Fisher teams," Capers said of Tennessee's head coach. "They want their defense to get off the field."

And that in turn helps their offense. The Titans lead the league in time of possession, keeping the ball for an average of 34:22 per game. That's one full minute clear of the Jets, the second-ranked team in that category. Think about that for a second. In their win over Green Bay Monday night, the Titans held the ball for 38 minutes. The Texans average 28:48 per game.

"They're going to run the ball 30-plus times and Steve McNair is going to do his MVP thing," Carr said. "We're going to have to try to keep the ball out of their hands."

The Texans are averaging nearly 363 yards per game, ranking seventh in the league. They've averaged 27.3 points per game over the past three weeks. So confidence is not an issue.


"I think we've had confidence against everybody we've played this year," Carr said. "We feel like we can score at any time. We feel like we have the kind of guys on our team that can break open games."


But sometimes the best defense is a also a good offense. If the Texans can get back to a solid balance of the running and passing games, Houston's defense will be more rested and ready to make plays against an opponent that loves to grind.

"Hopefully, we can keep our defense off the field -- that's something that Tennessee is doing a great job of," Carr said. "It's going to be a tough test for our offense, not just in terms of scoring points but keeping their offense off the field at the same time."