He wasn't the only non-rookie playing in the "rookie" scrimmage between the Texans and Dolphins Saturday, but running back Tony Hollings certainly looked like he was auditioning to make the team for the first time.
Last season was not the way Hollings envisioned his first in the NFL. At 22-years-old, he was one of the youngest players in the league.
He played in 14 games with one start, but was still trying to overcome a right anterior cruciate ligament tear his final season at Georgia Tech.
Hollings said the knee injury is now behind him and he proved it on the first play.
Running over left guard, Hollings broke a 20-yard run to open the rookie scrimmage. He finished the day with nine touches and 38 yards – the best rushing performance by either team.
"I wouldn't really call it a coming out party," Hollings said. "It's just me getting back from the knee injury and coming out here and doing what I can do."
Coaches have told the second-year player he would get plenty of reps to make up for his lack of playing time in 2003. Everyone is still searching for a repeat of his last games in college.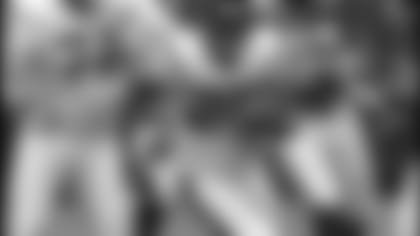 In four starts in 2002 Hollings rushed for 633 yards and 11 touchdowns. He led the nation in rushing before tearing his ACL.
Hollings now has his trademark speed back with a newfound decisiveness when it comes to hitting the hole.
"That's the thing we think Tony brings," Texans head coach Dom Capers said after the scrimmage. "What Tony can do is go from point 'A' to point 'B.' He's got a burst. In this league, when you get a seam you've got to get through it quickly, because when you hesitate and you stutter, things close up quickly."
Capers wants to use Hollings as a change-up back with starter Domanick Davis. Davis uses his lateral quickness and vision.
After limited action last season, Hollings said he has plenty left to learn. And he's getting plenty of chances to work.
The Texans have been through 13-straight practices, including Saturday's scrimmage. Players have been banged up, including Davis, who has sat out three practices, including the scrimmage.
With even more chances than expected, Hollings appears to be auditioning for a larger role in the backfield.
"When I'm out there I try to be consistent, just try to run as hard as I can," he said. "If they need me to be the crunch time back then I can get in and do that. But if I need to do something else, I'm willing to do anything to help the team out."