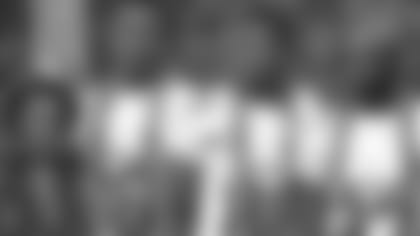 ]( "Texans WR Andre Johnson (middle)")

HONOLULU -- The first time Andre Johnson made the Pro Bowl, he was the only Texans player invited to play in the game. The second time, too.
Those were the 2004 and 2006 seasons, much leaner years for the franchise. This time around, at Johnson's sixth Pro Bowl in 10 seasons, he's one of nine Texans players on the AFC squad.
Johnson said Friday that he's enjoying being in Hawaii with so many of his teammates. The relaxed smile on his face said that he's clearly enjoying being at the Pro Bowl, period. It's an experience that never gets old for the Texans' all-time leading receiver.
"It's always an honor," Johnson said. "You get a chance to be around great players, the best of the best. It's a lot of fun. You get a chance to pick their brains a little bit about football and get to learn a lot about those guys, the way they work and just being around them and their families and stuff like that. So it's always a lot of fun to be over here."
One of the players Johnson has spent a lot of time with this week is former Indianapolis Colts wide receiver Reggie Wayne, his former teammate at the University of Miami. They watched Miami's basketball team upset No. 1-ranked Duke together earlier in the week.
Johnson also has been hanging out a lot with Texans teammates like quarterback Matt Schaub, who marveled on Friday at Johnson's 2012 season.
"Midway through, he really got hot, and he was just the Andre that we know," Schaub said. "He was just playing at such a high level, making huge plays for us. It's just special to see what he's doing as he gets through his career."
Johnson had the best season of his career this year at age 31, leading the AFC with a career-high 1,598 receiving yards. He did it in the face of nagging, rampant media speculation in the offseason about whether his age and injuries – he missed nine games with hamstring issues in 2011 – had taken a toll on his ability.
"You keep it in the back of your mind when people doubt you," Johnson said. "I knew that I could still go out and put up big numbers and play well as a player. That's why I'm here."
Now that he's here, Johnson is getting a chance to reflect on the Texans' season. It ended in disappointment, but it also featured more victories than any season in franchise history.
"I think we took a step in the right direction as a football team," Johnson said. "Things didn't turn out the way we wanted 'em to in the end, but I think we're building a very solid foundation as an organization, as a team. Hopefully, we can just keep heading in the right direction."
Added Johnson, addressing Texans fans: "Appreciate you guys' support. Best fans in the NFL. Can't wait 'til next season."
Twitter.com/NickScurfield