Opposing offense licked their chops when they saw the Texans on their 2002 slates last fall.
Why? Historically, defensive backfields on first-year teams have more holes than an ACC expansion plan. The previous three NFL expansion clubs had yielded an average of 214 yards passing per contest.
The Texans knew teams would want to test them deep so they took three veterans players in the expansion draft -- cornerback Aaron Glenn, cornerback Marcus Coleman and free safety Matt Stevens -- that ended up starting in Houston's secondary in 2002. A shrewd late-training camp signing unearthed starting strong safety Eric Brown.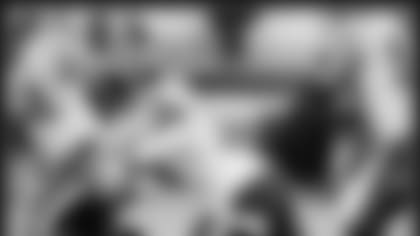 Glenn made his third Pro Bowl trip last season.
The result? The Texans finished a respectable 10th in the league in pass defense (fourth in the AFC), yielded just 196.3 yards per game through the air and sent Glenn to his third Pro Bowl.
Glenn picked off five passes -- returning two for scores -- while Coleman broke up a career-high 30 passes. Titans quarterback Steve McNair was the lone opposing signal-caller to complete a pass of more than 50 yards against Houston, and that pass (53 yards to wide receiver Drew Bennett) came in the season finale.
In short, the Texans' dependence on veteran defensive backs paid dividends in their inaugural season. That entire secondary returns intact in 2003, although the Texans won't catch anybody by surprise in their second go-round.
Glenn is not only the leader of the secondary, but could arguably be considered the team's emotional leader as well. His 2002 campaign -- one that also included a career-high 72 tackles -- proved that Glenn hasn't missed a step, even after nine seasons at one of the most demanding positions in football.
"He's a good athlete, first and foremost," Texans defensive backs coach Jon Hoke said. "He's got exceptional quickness, great anticipation and I think a big part of it is how well he prepares for a game. He studies film, studies his notes, studies the game plan.
"He's a guy that never wants to be wrong and he takes a lot of pride in that."
Glenn mans the left side and invariably finds himself locked in duels with some of the league's top wideouts. But it's a situation in which he thrives.
"I like to make plays," Glenn said. "I love to be the guy that's put in position to where all of the responsibility is on me, because if I don't make it, it's my fault.
"I like that. It's either me, or them. A lot of people don't like to be in that position but I like to be the guy that's going to help the team get over the hump."
Coleman garnered less fanfare than Glenn, but had an outstanding season at right corner. He had 90 tackles, recovered two fumbles and seemed to improve as the season wore on. That improvement carried over to the team's off-season program.
"Marcus has looked great," Texans head coach Dom Capers said. "And he probably played his best football at the end of the season."
The Texans re-signed Kenny Wright as their third corner and also re-signed Jason Simmons to bolster their depth. Jason Bell was one of the team's better special teams players, while second-year pro Demarcus Faggins has been working in the off-season to get stronger.
"I think we've got pretty good potential at the corner position," Capers said.
Brown was unemployed until the Texans signed him two days before the Hall of Fame Game. Despite the late start, he won the starting slot in training camp and had a solid season. Brown collected 95 tackles, one forced fumble, two INTs and seven passes defensed in 15 starts. He re-signed with the club during the off-season.
"We feel Eric gives us a tough, physical player at safety," Capers said. "He came in without the advantage of training camp last year, but still won a starting position."
Stevens started all 16 games last season at free safety, ranking fourth on the team with 117 tackles. But he's been the subject of plenty of off-season chatter, especially after the Texans brought in some free agent safeties that eventually signed elsewhere.
"You watch Matt out here in practice and Matt's a confident football player," Capers said. "He knows our scheme and there's great value in that.
"But we've got some people we need to look at. Many times it's hard to tell until you get the pads on. We'll have a competitive situation at that position. We have a combination of people that have different strengths."
Travares Tillman appears the most likely challenger to Stevens' starting role. He did not play in 2002 but started six games at free safety for Buffalo in 2001. Tillman is athletic, but is playing catch up with the system right now, which gives Stevens an edge.
Second-year pro Ramon Walker is one of the team's hardest hitters. Fellow strong safety Kyries Hebert spent a few weeks on the practice squad last season and looked good in mini-camp. Seventh-round pick Curry Burns also looked good in mini-camp at the free slot and will battle for a roster spot on special teams.
The Texans would like to see more interceptions from this bunch than the 10 Houston generated last season. Only Glenn and Brown picked off more than one pass. But the Texans' defensive linemen and outside linebackers are now fully accustomed to the 3-4, which should translate into more pressure on opposing quarterbacks. If the Texans can create more turnovers, continue limiting big plays and avoid injuries like they did last season (Brown was the only defensive starter to miss a game), their secondary could continue to evolve into one of the league's top units.