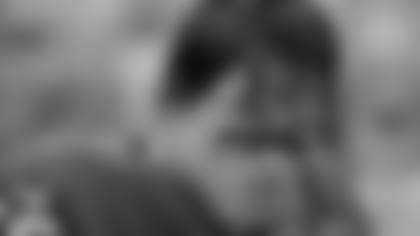 ]( "Texans ILB Brian Cushing")

Texans inside linebacker Brian Cushing is making steady progress in rehab from the knee injury that ended his 2012 season in Week 5.
The team's 2011 MVP and defensive captain tore the anterior cruciate ligament in his left knee on Oct. 8 at the New York Jets.
"He's doing great," Texans chairman and CEO Bob McNair said Tuesday in his office at Reliant Stadium. "His rehab is going great. He's ahead of schedule. He's doing fine."
Cushing had surgery on Oct. 25 with Dr. James Andrews in Pensacola, Fla. He has been rehabbing at Reliant Stadium ever since. Training camp will begin in late July, about nine months after Cushing's surgery. The 2013 season kicks off on Sept. 5, more than 10 months after the operation.
Minnesota Vikings running back Adrian Peterson made an incredible recovery after tearing his ACL and MCL on Christmas Eve in 2011. Peterson didn't play in the 2012 preseason but started every regular-season game and led the NFL with 2,097 rushing yards. Still, McNair cautioned that ACL injuries take time to completely heal.
"We need to recognize that with the type of injury he had, players when they first come back form that type of injury, they're not gonna have quite the same speed that they had before the injury," McNair said. "It takes some time. It might take him six months, it might take him all year, before he's back to where he was before the injury. But he'll still be out there; he'll still be playing hard. He'll be a great addition to our defense… but these things take time. A lot of times, people think, 'Well, he's gotten his medical clearance, he's gonna come back and automatically be just the way he was before.' And it doesn't work that way."
Cushing led the Texans in tackles in two of his first three seasons. The 2009 NFL Defensive Rookie of the Year had a team-high 30 tackles before he was injured this season. The Texans' defense ranked first in points (14.0/game) and yards (273.0) allowed with Cushing through Week 4 and 18th in scoring (22.9) and 13th in yards (340.0) in Weeks 5-17.
A healthy Cushing paired with 2012 NFL Defensive Player of the Year J.J. Watt should help the Texans' defense reclaim its place among the league's elite.
"It means a lot," McNair said of Cushing's return. "Number one, Brian was the emotional leader who's captain of the defense, and he just had this great enthusiasm and spirit and it lifted the other players on the team and they played better. It wasn't just the loss of a guy in one position; it was also a reduced enthusiasm perhaps on the part of other players around him. To get him back is really good.
"We're excited about having him back."
Twitter.com/NickScurfield