Two things in training camp are constant – weather and change.
Come Saturday players will be wearing the thick Houston air like a coat, sweating profusely and battling for a place in one of the many possible personnel adjustments.
Ink on the first depth charts is dry. But it doesn't have to stay that way.
Several position battles began in the spring and will continue throughout the opening days of training camp. While most starting positions are secure, some key backup and special teams slots remain undecided.
The position battle with the highest profile is for return specialists. J.J. Moses is the incumbent at the position. He averaged 23.4 yards per kick return in 2004.
His challenger, sixth-round draft pick Vontez Duff, played cornerback at Notre Dame and is in the school's top five in kickoff and punt return yards. He is the only player in school history to score on a kickoff return, punt return and interception return in the same season.
Duff's speed will make an interesting contrast to Moses' moves.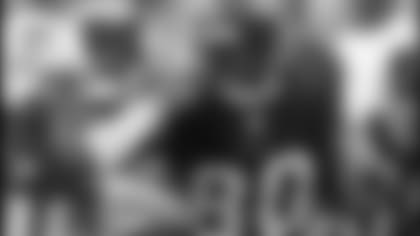 "We have high expectations for Derick going into this year based on what we saw from him on the practice field," head coach Dom Capers said. "He's very good at catching the ball in a crowd.
"Wide receiver is one of the stronger positions on the squad from a depth standpoint."
The team also had a busy off-season grooming more talent at the position.
Seventh-round draft pick Sloan Thomas played under Roy Williams' shadow at Texas but still managed 12 career touchdown catches and 1,362 receiving yards. The team also picked up Kendrick Starling as an un-drafted free agent.
Chris Taylor, a 5-10 receiver from Texas A&M, spent the spring in NFL Europe and led the Amsterdam Admirals with 42 catches and five touchdowns.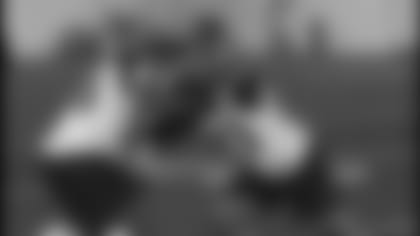 The Texans will not start a rookie on offense for the first time in team history but will likely start two rookies on defense – cornerback Dunta Robinson and defensive end turned linebacker Jason Babin.
The real position battles on defense are for backup slots, specifically behind Babin and starting strong safety Eric Brown.
Behind Babin are two players making the transition from end to linebacker – Anthony Dunn and sixth-round pick Charlie Anderson. Dunn was signed to the Titans' practice squad last season and started two games at defensive end. Anderson was selected in the sixth round of April's draft from Ole Miss. He recorded 127 tackles and 12 ½ sacks in 31 games for the Rebels.
Capers is concerned about starting two rookies on defense, but is pleased with the amount of talent the team has on that side of the ball.
Brown returns at strong safety after starting all 16 games in 2003. He finished with 120 tackles, three forced fumbles and an interception. Again, the position battle rages in the backup slot.
The Texans drafted Glenn Earl in the fourth round to add depth. Earl had 35 tackles, a sack, a forced fumble and an interception for Notre Dame in 2003 despite missing the final six games with a knee injury. He is currently behind Ramon Walker on the depth chart.

A three-year veteran, Walker is also coming off a knee injury. He played in 11 games in 2003, recording 17 special teams tackles.

Capers said Earl has taken a business-like approach to working his way in the rotation. He will be brought along slowly to prevent further injury.
Payne tore an anterior cruciate ligament last season, but is expected to be ready by the start of the season.
As for other personnel changes, the Texans have two notable additions on offense.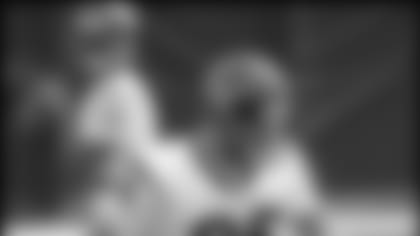 Todd Wade ]()will start at right tackle while tight end Mark Bruener may see his share of starts.
Widely regarded as a great blocking tight end, Bruener will split time with the Texans' all-time leading receiver, Billy Miller. Player packages will change to get both tight ends into the game.
"(Bruener) has always been one of the better blockers in the league but I really think Mark is an excellent addition to our team because of his experience and leadership capabilities," Capers said earlier in the off-season. "We've been so young on offense the past two years and I think Mark brings a veteran element to our offense. He's tremendous to have in that meeting room."
Age is perhaps the biggest change for the Texans this year – another constant as time in the NFL marches on.
Capers, a defensive specialist, had to wait three years to draft a defensive player in the first round. The lack of high-profile position battles is testament to the strength and depth of the team.
The gap between year two and three has been a large one.
"I look back through our depth charts from the first year compared to our depth chart now -- it's a big difference," Capers said.