Gary Kubiak was pleased with many aspects of his team following 14 days of offseason team activities and two mini-camp sessions. The area he was most excited about, though, might surprise some people.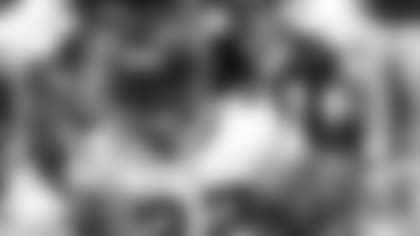 The Texans' head coach couldn't say enough good things about the running backs, which was bold praise considering incumbent starter Domanick Davis was sidelined while recovering from offseason knee surgery, and 2005 third-round pick Vernand Morency also missed time with plantar fasciitis.
The remaining ball carriers included a nine-year veteran and three rookies, two of which were undrafted. Even one of the first-year players, sixth-round pick Wali Lundy, missed some time while recovering from a strained hamstring, leaving Antowain Smith, Chris Taylor and Damien Rhodes to split the majority of reps. Smith, with his fifth NFL club, was the only player with any pro experience.
Yet Kubiak couldn't be happier with the group heading into training camp. He loves Smith's leadership and the example he sets, as well as the energy and competitiveness of his first-year players. Part of Kubiak's optimism could stem from his history of turning previously unheralded and so-called "washed up" running backs into solid contributors.
In the past eight seasons, five different Denver Broncos running backs have rushed for 1,000 yards in Kubiak's offense. Only two of those players were drafted before the fourth round, and none were first-round picks.
That's not to say any running back can gain 1,000 yards under Kubiak, but it certainly is a good track record that the Texans would not mind replicating.
"I'm surprised (at our depth)," Kubiak said. "I guess that would be a good way to put it…Antowain is a veteran guy that we're very excited to get. We think he fits what we do. Then the surprise comes from these young kids. Morency has missed some time, but you look at Wali Lundy, Taylor and Rhodes. We're very, very fortunate to pick these young men up, and they have been a big surprise throughout this summer. They're doing a good job."
Lundy played in a zone scheme under head coach Al Groh, so he's familiar with Kubiak's offense. Meanwhile, Taylor, a former Indiana Hoosier, and Rhodes, who played at Syracuse, have caught on quickly with their speed and decisiveness.
Running backs coach Chick Harris credits Kubiak for uncovering the talented prospects.
"I think that it's really good to be able to find young players like we've been able to do," Harris said. "I tell you what, our head coach went out and he constantly pounded on looking everywhere, near and far, to find young players. I think that's a credit to what coach Kubiak did in Denver. And I think we have some young, quality backs in our camp right now that are going to have to be reckoned with."
According to Harris, each running back has a slightly different style, but they all work well in the system that the Texans run, which emphasizes quick cuts upfield without a lot of shake-and-baking.
"The running style is based on inside and outside zone principles and being decisive and going north and south as soon as you see a vertical lane to run in," Harris said. "I think that's so important, and then really emphasizing that over and over and over. They get a lot out of it and they get a good push at the line of scrimmage with the line play. We're looking forward to seeing that pay dividends."
Taylor (5-11, 220) slipped through the cracks after rushing for 740 yards on 156 carries (4.7 avg.) last year in a spread offense. His compact frame and breakaway speed turned heads this offseason, but he's not taking anything for granted.
"This is my type of offense with zones and powers," Taylor said during mini-camps. "I'm just trying to take one day at a time. I'm going out there every play trying to give it 100 percent. It's hard for free agents to make the team normally. So I'm just doing my best and hopefully everything will work out."
While he had to watch from the sidelines for significant portions of the offseason, Lundy (5-10, 214) possesses superb footwork and an uncanny scoring ability. He scored a school-record 50 touchdowns in Charlottesville.
Harris' only concern is keeping Lundy on the field.
"Wali Lundy gives you a lot of vision and balance and he can go between the tackles or inside the tackles and do a good job," Harris said. "He's got good lower legs, and the vision and patience to see the holes."**
**Rhodes also is comfortable in the Texans' offense after working under current tight ends coach Brian Pariani at Syracuse, where Pariani served as the offensive coordinator last season.
After finishing his career ranked fifth in all-purpose yards (3,972) at Syracuse, Rhodes has a chance to contribute to the Texans on offense and in the return game.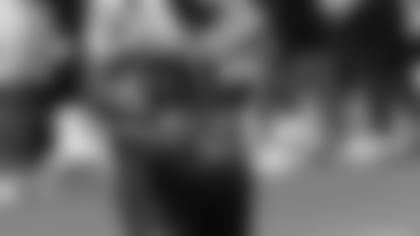 "Damien Rhodes possesses a lot of speed," Harris said. "He plays into the mix very well."
Even if Davis and Morency return to full strength, and Smith continues to play well, Kubiak anticipates each of the young runners to push for playing time during the preseason. They showed this offseason that they're up for the challenge.
"Opportunity is knocking with those kids," Kubiak said at mini-camp. "It was a little scary at one time putting our backfield together, but now once they are all healthy, it's going to be a strength on our team. I think they're all going to do a good job for us and it's going to be a (heck) of a battle."