You bite on the run, he beats you with his arm. You bite on the throw, he beats you with his legs. And if you happen to greet him head-on, make sure your chin strap is buckled.
Titans quarterback Steve McNair doesn't get much fanfare. Maybe it's the Nashville market. Maybe he doesn't crack the SportsCenter Top 10 enough. But while most of this year's preseason hype centered on Atlanta's Michael Vick revolutionizing the quarterback position, it's McNair that is truly the league's best all-around quarterback. He's fast, he's tough, he's smart and over the past few seasons he has become a true leader.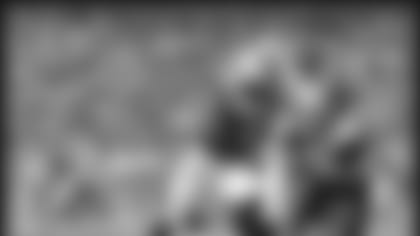 The Texans managed to sack McNair three times last season.
In essence, McNair is the heartbeat of the Titans. The Texans know that if they want to upset the reigning AFC South champs in Nashville Sunday, they have to find a way to fluster McNair.
"He can run with it, he's awful hard to get on the ground," head coach Dom Capers said. "He's so strong, he can run the ball like a running back. And he's got tremendous poise in the pocket. He'll hang in there and hold the ball until the last minute until somebody comes open.
"He's a tremendous football player. Everything that they do offensively, he's the guy that can win the game on any given play. I've had the misfortune, I guess, of going against him for a lot of years now. He's the guy that makes it all happen and I think people realize now what a good player he is."
Last season McNair practically willed the Titans to an overtime win over the Giants on Dec. 1, propelling Tennessee to a late-season run that ended with a division title and a berth in the AFC Championship Game. Despite battling turf toe, strained ribs and a sore back, he threw for a career-high 3,387 yards and 22 touchdowns, adding 440 yards and three scores on the ground.
McNair didn't even practice during the month of December, adding to his reputation as one of the NFL's toughest players.
"The funny thing is, he plays better when he doesn't practice," Texans linebacker Jay Foreman said. "Hopefully, he'll practice this week and not play well.
"He's been pretty much been in a zone the last three of four years. Nobody's really been able to stop him."
Through five games in 2003, McNair has looked even better. His 99.6 passer rating and 1,211 yards through the air are second only to Colts quarterback Peyton Manning in the AFC. McNair has thrown eight touchdown tosses and just two picks.
Last week at New England, McNair threw for 391 yards, just seven off his career high.
"Steve looks like he's in midseason form," said defensive end Gary Walker, who played his first four seasons with McNair as an Oiler. "He does some remarkable stuff. The guy is multi-talented. He's probably the best running back on the team as well."
Ah, but there might be the rub. Titans running back Eddie George is struggling mightily in 2003, averaging just 2.7 yards per carry with only one rushing touchdown. Tennessee is ranked 29th in the NFL in rushing offense. That puts more pressure on McNair's shoulders, both in the passing and running game.
Last week, the Titans were trailing 31-27 with under two minutes left before McNair was picked off by Patriots cornerback Ty Law, who returned the theft 65 yards to put the game away.
The Texans picked off McNair twice in Nashville last season, helping them stay in the game. If Houston can stuff the running game early, perhaps they can force McNair into some tough decisions.
"You know what you're going to get, it's just of matter of whether you can stop him," Foreman said. "You have to go out and make plays and hope you can minimize his big plays."
Easier said than done. But if the Texans want to climb the AFC South ladder, they must find a way to knock off McNair and the Titans.