As the hype surrounding Super Bowl XXXVIII reaches a fever pitch, MTV added to the excitement with their annual Rock N' Jock flag-football game, which was played at the Texans' practice facility this afternoon.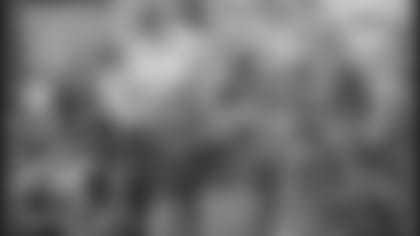 The cheerleaders performed on stage with Chingy Friday.

The game, which was precluded by a performance of the smash-hit single "Holidae In," sung by rap artist Chingy, featured two teams of celebrities mixed in with some of the NFL's top players.
To set off the football festivities, professional wrestler/movie star The Rock, who coached the silver team, entered the field to a standing ovation while driving a brand new Hummer H2.
Not to be outdone, Tampa Bay Buccaneers DT Warren Sapp rode onto the field on a gleaming Harley Davidson as the head coach of the gold team.
The few-thousand fans that braved the cold to watch the game received a special treat when each team's lineup was announced. Former Miami Dolphins Hall of Famer Dan Marino led the gold team at quarterback, while former Houston Oilers legend Warren Moon took snaps for the silver team.
Some of Marino's supporting cast included Ruben Studdard, formerly of the hit reality TV show American Idol, singer Nick Lachey, actress Tara Reid and Kansas City Chiefs TE Tony Gonzalez.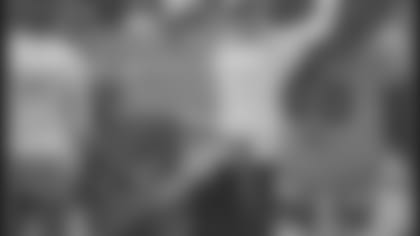 Tara Reid waved to her fans while she prepared to face Moon and the rest of the silver team.

Moon went to battle with Denver Broncos TE Shannon Sharpe, rap artist Nelly, Kansas City Chiefs KR Dante Hall and actor Matthew Lillard among many other key players.
MADDEN MANIA: On Thursday night, EA Sports hosted a Super Bowl party at the Roxy Club near the Galleria. As a part of the event, eight NFL players were chosen to take part in a Madden '04 football tournament.
Texans QB David Carr made a quick exit from the tourney after losing to Hall. Joining Carr on the sideline were Washington Redskins LB Lavar Arrington, Carolina Panthers RB DeShaun Foster and Green Bay Packers RB Ahman Green, who was destoyed 104-7 by Buffalo Bills RB Willis McGahee.
In the final showdown of the night, Indianapolis Colts DE Dwight Freeney used a tough defense to outlast Carolina Panthers DE Julius Peppers for the championship trophy.