At first glance, a 5-11 record isn't anything to write home about, even for a second-year franchise like the Texans.
But if you dig beneath the surface, you'll find Houston's 2003 campaign was tougher than any Iowa caucus. Strength of schedule? The BCS computers would adore the Texans. And that's never more apparent than this week.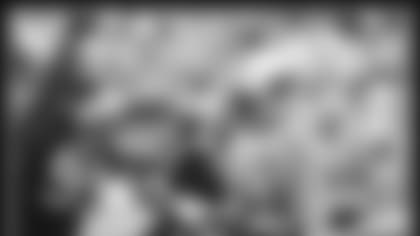 The Texans know all four remaining AFC teams extremely well.
The AFC divisional playoffs kick off Saturday with four teams in the running for a date in Houston for Super Bowl XXXVIII. Those four teams? New England, Kansas City, Indianapolis and Tennessee. The Texans are the only team in the league to have faced those four teams during the regular season. Houston posted a 5-5 record against the rest of the NFL. They were 0-6 against this formidable foursome.
The Patriots and Titans boast formidable defenses and efficient, if not glamorous, offenses. The Chiefs and Colts constantly push the accelerator on offense and occasionally show flashes on defense. All four played at Reliant Stadium earlier this season. One will earn a return trip over the next two weeks.
But who? The Texans haven't reached a consensus. They just see four good teams.
"All four of them have found a formula for winning football games," head coach Dom Capers said. "The players have bought into those philosophies and it's translating on the field."
The Chiefs have eight Pro Bowlers, while the Patriots have just two. The Colts and Titans each boast an MVP under center but have to play on the road this weekend. It's anybody guess who will emerge, but odds are it will be fun to watch.
New England is on an amazing 12-game win streak that, ironically, started with a home win against Tennessee Oct. 5. Now the Patriots host the Titans, who escaped Baltimore with a wild card win. During that 12-game run, the Texans arguably had the best opportunity to halt New England's win streak.
Houston led 20-13 in the fourth quarter before Patriots quarterback Tom Brady engineered an 80-yard drive in the final minutes to send the game into overtime. The Texans blocked an Adam Vinatieri field goal in the extra frame and looked in good shape to try a field goal of their own later in overtime, setting up shop at the Patriots 35. But New England pushed Houston back and Vinatieri made good on his second try.
It wasn't pretty, but Patriots rarely were pretty in 2003. But there were 14 of them, thanks largely to a defense that allowed the fewest points in the league.
"They have a good defense," guard Todd Washington said. "They bend but don't break. We tried to break them. They have a lot of guys who have experience and they're crafty guys who know their stuff."
And the offense, while not spectacular, is efficient in crunch time. Brady is undefeated in overtime -- and the playoffs.
"They like to run the ball and they like to spread you out on offense," free safety Marlon McCree said. "They have some good running backs and good receivers. Antowain Smith is a real physical running back."
The Titans swept the Texans in two games that couldn't have been more different. After losing to the Patriots, Tennessee jumped out to a 21-0 lead and whipped Houston 38-17 in Nashville. But three weeks ago, the Texans rallied to take a 20-17 lead with 1:48 left, sending their fans into a frenzy. Trouble was, Titans quarterback Steve McNair, the league's co-MVP, can work a lot of magic in 108 seconds. His fourth-down touchdown pass to wide receiver Drew Bennett lifted Tennessee to a 27-24 win.
"Steve McNair is a veteran quarterback and a courageous guy," Capers said. "You just don't want to have him in that situation. He does a great job throwing the deep ball as you saw on the last play. He put the ball right on the money."
The Colts also swept the Texans and also played two completely different games. Indianapolis fell behind early at RCA Dome in October but quarterback Peyton Manning (the other co-MVP) threw three touchdown passes in leading his team to a relatively comfortable 30-21 win. That was also the first time quarterback David Carr went down with an injury, this time a sprained right ankle.
Carr was back for the season finale in Houston and helped the Texans jump out to a 17-3 lead. But here came Manning and his fellow horses. The Colts scored 17 points in the fourth quarter, while the Texans could manage just one first down after their final touchdown. Colts kicker Mike Vanderjagt booted a 43-yard field goal as time expired to give Indianapolis a 20-17 win and the AFC South title.
"Manning doesn't spend a lot of time in the pocket with the ball," linebacker Steve Foley said. "Once he sees his read, he throws it."
Denver found that out in last week's wild card game as Manning completed 22 of 26 passes for 377 yards and five (yes, five) touchdowns in a 41-10 win. Manning and his horses are confident as they head to Kansas City.
Speaking of the Chiefs, they torched the Texans in Week 3, easing to a 42-14 win. Then again, Kansas City pretty much throttled everybody en route to its 8-0 start. The Chiefs finished 13-3 behind an explosive offense, but their defense has looked shaky in recent weeks. And after watching Manning last week, the Arrowhead faithful might be antsy.
But the Chiefs also boast an explosive offense, led by running back Priest Holmes, who set an NFL single-season record with 27 touchdowns. And Indianapolis has had trouble stopping the run.
"He runs well and they block for him," cornerback Marcus Coleman said. "He is always patient and that's why he's the top back in the league right now. He finds the holes and when he sees it, he hits it."
For the record, the Texans also played one remaining NFC playoff team, and they won that one. Houston defeated NFC South champion Carolina 14-10 at home. That's five of the top eight teams in the NFL and the 2004 schedule doesn't offer any breaks. The Chiefs return, this time on the road, and the Broncos and Packers are also on the menu. And the Texans must face the Colts and Titans twice every year.
But that's OK. You don't reach the penthouse by playing pushovers. The Texans got a good feel for how the cream of the AFC crop rose to the top. They proved for the most part that they could hang with those teams. Now Houston has to figure out how to take the next step.
"There are 32 teams in the league and every week there 16 games," Capers said. "There are going to be 16 winners and 16 losers. So you have to move into that top-16 category. The next step is playoffs and you have to become one of the top-12 teams to move into the playoffs. The next (step) is division champs. You have to be one of the top-eight teams to be a division champ. Then you go to AFC champs and you have to be one of two teams. Then, the Super Bowl champ is one team. So it's a pyramid."
         Houston's
         climb up that pyramid resumes this fall. If successful, then maybe
         the Texans could be the ones on television next January.