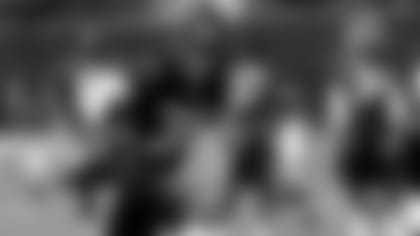 ]( "Texans rookie S D.J. Swearinger runs back an interception on Saturday morning.")

Second-round draft pick D.J. Swearinger has been a quick study at Texans rookie mini-camp.
The safety out of South Carolina made an interception on Saturday morning that caught the attention of defensive coordinator Wade Phillips. During team drills, Swearinger picked off a pass over the middle from quarterback Case Keenum, then ran it back the other way for a would-be touchdown.
"Swearinger is a really good athlete and made a really nice interception this morning," Phillips said. "He seems to be feeling the defense real well… He's very instinctive. He's just learning the defense like everybody else, but he seems to catch on quickly, and he made an interception today where he was playing in another area but made the play. He's a naturally good player that needs to keep developing, but we like him."
Texans coach Gary Kubiak noticed Swearinger making a quick adjustment after the first practice of mini-camp on Friday morning.
"He handled himself like he'd been out here for a couple years," Kubiak said. "But that's what he did at South Carolina. He's the same type of guy."
Swearinger was a three-year starter and team captain at South Carolina. He showed a nose for the ball in 2012, recording two interceptions, a team-high seven pass breakups, two forced fumbles and two fumble recoveries with two defensive touchdowns.
"(He's) very athletic," Kubiak said. "Everything we thought he was. Very smart player, adjusts to what we're doing right off the get-go. Great ball skills, and there's an opportunity for him to get a lot of reps and help this team very early, so I'm just glad he's here and working."
Swearinger is in line to be the Texans' third safety behind Ed Reed and Danieal Manning. He will essentially be a starter since the Texans use three safeties on about 50 percent of their defensive snaps.
"I want to be a sponge out here, soak up as much information as I can, and once I get out here, not have to think a lot," Swearinger said after a mini-camp practice. "Once you're out here thinking a lot, you seem to make mistakes, so I want to get knowledge that I can in the meeting room so that when I come out here, it's just fluid."
Twitter.com/NickScurfield