The Dallas Cowboys moved the ball well on offense for much of Saturday's game with the Texans, but their momentum collapsed at all the wrong times.
The Texans forced four turnovers in Houston's 18-0 preseason win at Reliant Stadium, two inside the 20-yard-line.
Looks like all the work on red zone defense in practice paid off.
Starting two rookies on defense may not be that bad of an idea either.
First-round draft pick Dunta Robinson played most of the game defending the likes of wide receivers Keyshawn Johnson and Antonio Bryant. He finished with five tackles and a pass defensed.
Johnson and Bryant combined for three catches for 32 yards.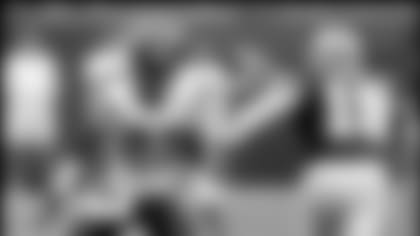 At one point Robinson was seen conversing with Johnson, long known as one of the league's most vocal and exuberant players. It was a fitting welcome to one of the league's most watched rookie cornerbacks.
"That's teaching the youngster you know," Robinson said after the game laughing. "We had a few words, but that's part of football. As long as there wasn't any physical harm, I was fine."
Robinson's teammates had confidence in him from the opening snap.
"Dunta's a player," Texans' cornerback Jason Simmons said. "His first practice, we knew Dunta was a player. He had to be a well coached player because he stepped right in"
Simmons had the team's first interception, picking off Drew Henson on Houston's goal line. Safeties Marlon McCree and Jammal Lord had the other two interceptions. Lord's pick came with under a minute to go and sealed the shutout.
"I was really disappointed with what happened," Dallas head coach Bill Parcells said. "I thought we would be a little bit better than that. We were careless with the ball in the red zone. (Quarterback Tony Romo) has got to quit just swinging the ball, which is what he did. Drew, you can't give the ball away in the red zone no matter what."
The shutout was more effective than glamorous.
Dallas managed 285 yards of offense. But big turnovers were just what the Texans needed to start a new season, especially with the defense being the source of most questions and position battles.
"That's the thing about this defense, it's an opportunistic defense," defensive end Gary Walker said. "You win the turnover battle, nine out of ten times you're going to win the game. We work on that everyday, turning the ball over stripping the ball. That paid dividends for us today."
Rookie linebacker and first-round pick Jason Babin did not play as many snaps as Robinson but he still made his presence known.
The team drafted him and converted him from defensive end to linebacker to add more life to the pass rush. He had a sack and a forced fumble in his first professional game.
Babin sacked Dallas quarterback Vinny Testaverde with 12:42 left in the first half, setting up a six-play drive and a Texans' field goal.

Linebacker Raheem Orr and defensive end D.J. Renteria also recorded sacks.

Texans head coach Dom Capers said he "liked what he saw" out of Babin and Robinson.

"I felt a lot more comfortable out there," Babin said. "Now I know what I need to work on a little more. Now I'm ready to really hone it in and realize that I'm not going to hear the calls. I have to look for hand singles. I have to make decisions on my own. I just have to study more and fine-tune some skills I've been working on."

The defense will resume work on Monday, but shutting out an offense in the first preseason game was the toast of the locker room Saturday night.
The feat is even more admirable considering the starters only played the first couple of series.
"We had a lot of guys who've never even played in the national football league before," Simmons said. "Those guys stepped up and they played well so it was big for our whole team.
"We were cheering them on all the way."