Through four games last season, the Texans were struggling mightily on offense, averaging just 193.5 yards and 10.5 points per game.
So seeing Buffalo in Week 5 was a nice tonic for the Texans, even though the Bills snuck out of Reliant Stadium with a seven-point win. Houston scored 24 points, gained 338 yards and racked up a season-high 141 yards on the ground, averaging nearly five yards per carry.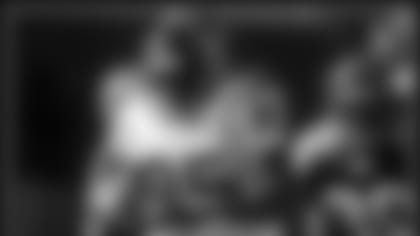 Houston's offense is ranked 16th in the NFL after ranking 32nd in 2002.
Now Houston's offense is much improved in all phases, averaging 321.7 yards per game. But the same can be said of Buffalo's defense. Thanks to some nifty off-season movement, the once porous Bills have now become a force when the opponent has the ball.
"They've made a big investment in their defense," head coach Dom Capers said. "They brought in (linebacker) Takeo Spikes and (safety) Lawyer Malloy and both their cornerbacks are No. 1 draft picks. They've got strong run players inside.
"This will be the best defense we've played to date."
That statement would have been laughable a season ago, when Bills quarterback Drew Bledsoe threw for 4,359 yards as Buffalo's best chance to win was in a shootout. But now Bledsoe and the offense are struggling and the Bills are leaning on their revamped defense.
Defensive coordinator Jerry Gray's unit ranks second in the AFC and third in the NFL in total defense, yielding just 274 yards per game. The Bills rank second in the league in pass defense and 15th against the run. Last year, only three teams gave up more real estate on the ground than Buffalo.
"We played last year and there were many times when our offense had to bail our defense out," Bills head coach Gregg Williams said. "We'd give up 29 (points) and have to score 30 to win a ballgame. Our defense is playing really solid right now. The special teams are playing really solid. Those two phases need to bail out the offense a little bit until they get kick-started again."
Up front, the Bills added veteran defensive tackle Sam Adams to strengthen the interior. Defensive end Aaron Schobel is blossoming as a pass rusher, leading the team with 4 1/2 sacks.
Buffalo's linebackers, a weak spot last season, are now a strength thanks in large part to two free agent signings. Spikes, acquired from Cincinnati, has 76 tackles and two interceptions. Former Texan Jeff Posey isn't putting up the numbers he did in Houston but is still playing well. Middle linebacker London Fletcher leads the team with 89 tackles.
But Buffalo's real strength is in the secondary, which should please Gray, a former All-Pro cornerback. Starting corners Nate Clements and Antoine Winfield represent one of top tandems in the game and the Malloy has given the Bills a physical presence at strong safety.
Buffalo has allowed the least number of pass completions over 20 yards (15) and plays over 10 yards (76) in the NFL this season. But the Bills also have had trouble taking the ball away. Buffalo ranks last in the AFC with just 10 takeaways, providing little help to an offense that has turned it over 21 times.
"You have got to stay out of third and long situations with them because they can get into pretty much whatever they want," quarterback David Carr said. "After that they get in there with two down linemen and run guys around. They try to confuse you a little bit as far as that goes but if you can stay in normal down and distances and run the football then you will be all right."
Hence, running back Domanick Davis will be key for the Texans Sunday, in both the running and passing games. Carr will no doubt take his shots downfield. But the Texans would love to do exactly what Cincinnati did to them last week -- sustain drives and eat up clock. The less opportunities Bledsoe and company get to score, the more the pressures mounts on each drive. And the natives have been restless this week, to say the least.
"Playing this position people up here will tell you that I need to go back to school," Bledsoe, a four-time Pro Bowler, joked this week.
Carr and his offense are coming off a 27-point performance. But the Texans still feel like they left some points on the board, something they know they can't afford to do against this Bills defense.
"You're always disappointed if you leave a couple plays out there like we did last week," Carr said. "We have to go out there as an offense and take advantage of every opportunity. We just have to keep going out and keep the confidence that we have as an offensive group and continue to get better. We want to improve every week. We're never satisfied with what we do."
         And when
         Houston's offense takes the field against Buffalo's defense Sunday,
         it won't seem like last season. This season it's strength versus
         strength. May the best unit win.