It was Oct. 18 and Glenn Earl's senior season had already been trying enough.

Notre Dame had plummeted from its once lofty heights and was off to its worst start in six years, sporting just a 2-3 record with arch-rival USC coming to South Bend.

The fourth-ranked Trojans would roll to a 45-14 win, sending the Irish faithful home disconsolate. But the loss would sting Earl even more.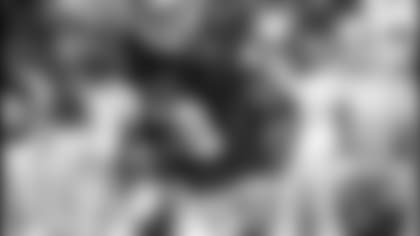 Earl tore the ACL in his left knee, ensuring the fifth-year senior's college career was over. Worse yet, the injury was sure to affect his standing in the upcoming NFL Draft.

Earl had already amassed 169 career tackles, lining up at both free and strong safety. He was considered by many the hardest-hitting safety in college and a lock to be a first-day pick.

"We had a second-round grade on him," general manager Charley Casserly said.

But coming back from an ACL? That's enough to scare away most scouts. Forget the second round, Earl just had to convince everybody he was draftable.

So he embraced his rehab and when Notre Dame's pro day rolled around, Earl was able to impress. He wasn't 100 percent, but he showed enough to make teams think.

"It's been a grind," Earl said. "I've been hitting it hard the last five months just to get my knee back to where it needs to be."

The Texans finally made the call Earl was waiting for on Sunday morning, selecting him in the fourth round. Now that Earl has cleared one major hurdle, he's ready to clear another.

"I'm just glad it's all over," he said. "Now I can move on and get down there and do my thing."

His thing is relatively simple: Earl seeks out ballcarriers and hits them. Hard. His instincts enabled him to pick off four passes, force three fumbles and recover five. He even blocked a couple of kicks.

Earl projects to battle third-year pro Ramon Walker at strong safety behind starter Eric Brown. That means some special teams duty, which Earl doesn't mind at all.

"I'm looking to do whatever they ask me to do," Earl said. "I'm looking to come in and be locked in to whatever responsibility they looking for me to do. It'll be interesting. I'm sure that special teams will be my main focus off the bat, but looking to get whatever I have."

For now, Earl is simply trying to get his knee back to 100 percent. The Texans won't rush him and they had a similar case with running back Tony Hollings last summer.

"We're not sure if he's going to be ready by training camp, but he'll be ready at some point," Casserly said. "The medical people think he'll be all right. We have to be patient."

Patience doesn't appear to be one of Glenn's virtues. But the economics and computer applications major is smart enough to know that he has to apply some patience to make sure the rehab is successful.

"I'm not sure about the specifics on that," Earl said. "I have a check with the doctors very soon. I'm basically looking to be full go in about a month or so.

"My knee is feeling great. It's all about getting all my strength back. I'm very optimistic. I definitely see myself full go come the season."

If so, Earl will be a hit in Houston.