The Texans are fresh off a titanic, 60-minute battle against one of the league's best teams with a leading MVP candidate at quarterback.
Their reward? Another game against one of the league's best teams with a leading MVP candidate at quarterback.
"I've seen and read where Steve McNair and Peyton Manning are the top two MVP candidates," head coach Dom Capers said. "You go from a great challenge one week to a great challenge the next week."
The Texans fell to McNair's Titans 27-24 three days ago on a last-second touchdown pass. Now Houston gears up for Manning's Colts, who can clinch a division title with a win at Reliant Stadium Sunday.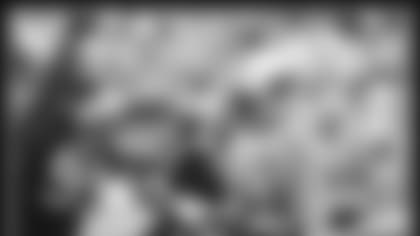 It seems unfair, but the Texans better get used to it. You could make the case right now that the AFC South is the best division in football. And it's only going to get better.
Indianapolis (11-4) has the inside track on the division title this season by virtue of its sweep over the Titans. But Tennessee (also 11-4) is also going to the playoffs, marking the second consecutive season the division is sending two teams to the postseason party. The NFC East is the only other division that can make that claim.
Ultimately, McNair and Manning are the primary reasons their teams are so successful. They are the league's top-rated passers, separated by just one percentage point (McNair, 100.4; Manning, 100.3). They have combined for 52 touchdowns and just 16 interceptions. McNair is the NFL's ultimate warrior, consistently battling injuries to will his team to victory. Manning is the ultimate coach's quarterback, with more influence in play-calling than any other quarterback in the league.
"You can tell McNair wasn't 100 percent against us but he went out there and battled," Capers said. "Manning is the foundation of that football team. And we see both of them twice a year."
Which has been a tough road to hoe. Predictably, the Texans are 0-7 against the division's top two dogs, although they were just 17 seconds away from beating the Titans last week. That performance showed that, at the very least, Houston is on the right track.
"This is definitely one of those games to get us over the hump and send us into the off-season really feeling good about ourselves," center Steve McKinney said. "I don't think we will be too down on ourselves. We played hard and were one play away."
While most of the national focus has been on the Colts and the Titans, the Texans and Jaguars are making significant progress, which is why this division will soon be hard to handicap.
Houston has a franchise quarterback in David Carr and two rookie offensive weapons in running back Domanick Davis and wide receiver Andre Johnson. That trio engineered a four-play, 80-yard drive that gave the Texans their only lead with 1:48 left last week. Davis and Johnson are each within 75 yards of the 1,000-yard mark heading into the Colts game. No rookie duo has ever produced 1,000 yards rushing and receiving.
"They have a great running back in Davis to complement the quarterback," Titans defensive end Jevon Kearse said after last week's game. "And they came out like it was a playoff game."
Houston's defense has been decimated by injuries this season. The Texans have four defensive starters on injured reserve, including 2002 Pro Bowl selections Aaron Glenn and Gary Walker. No doubt the Texans will address the defense, especially the line, in free agency and the draft.
"The only problem for the Texans in the immediate future is that the AFC South is extremely tough," said CBS Sports broadcaster Ian Eagle, who will be calling Sunday's game. "Ultimately, the Texans have to worry about only themselves and not get caught up in trying to match up specifically with Indianapolis and Tennessee."
Meanwhile, the Jaguars have a franchise quarterback of their own in rookie Byron Leftwich. They still have an elite running back in Fred Taylor. And their young defensive line, headed by John Henderson and Marcus Stroud, is formidable.
New head coach Jack Del Rio has energized the franchise and Jacksonville has won three of its last four games to tie the Texans at 5-11 in the standings. The Jaguars head to Atlanta this Sunday still seeking their first road win of 2003.
Indianapolis lost at Jacksonville earlier this season and trailed the Texans 14-3 at home. So they won't be taking their trip to Reliant Stadium lightly. Next week, the Colts and Titans will be focused squarely on the playoffs. But once the season ends, they'll be sneaking a peek in the rearview mirror.
"We're capable of playing with these teams," Capers said. "The next step is that we have to find ways to make the plays that they're making right now to beat them. That's why they're going to the playoffs and we aren't. That's just where we are right now."