 It's not often that rookies selected in the sixth round of the NFL Draft make a significant impact in year one. A handful of players selected in 2014's sixth round were released and have moved on to another team. Some spent the year on the practice squad. Some are out of football altogether just one year later.
That was not the case with the Texans' second sixth round selection in 2014. With the pick the Texans acquired from the Oakland Raiders in the Matt Schaub trade, they selected a running back from LSU that had long been overshadowed by a group of talented skill players down on the bayou.
However, it didn't take long for Alfred Blue to make his presence known in Houston. Just one quarter into the opening game of his rookie campaign versus the Washington Redskins, the former LSU product knifed through the line, blocked a punt, recovered the loose ball and ran it in for the first touchdown of his career. It was one of his four touchdowns on the season - the aforementioned blocked punt return, two rushing touchdowns and one receiving. He was one of only two Texans players to record a touchdown in three different ways. What kind of company did he keep as a rookie?
J.J. Watt was the other Texan who found three different ways to score a touchdown.
When Arian Foster injured his groin early in training camp, the debate began whether Blue was ready to step into the starting role for a significant period of time. In 2014, Blue was forced into Foster's shoes in a couple of games, including the team's win over Cleveland. In that game, Blue ran the ball a whopping 36 times, more than half of his senior season rushing total at LSU. Blue got stronger with more carries as the game wore on; he eventually finished with 156 yards on those three dozen carries.
Foster is one of the special players in this league, so no one can step in and 100% replicate his production in all three phases - run game, pass game and pass protection. However, as a rookie, Blue showed flashes that he can handle any responsibility put in front of him. Let's examine one of those phases, breaking down an inside zone run that highlighted Blue's burgeoning and improving running skills.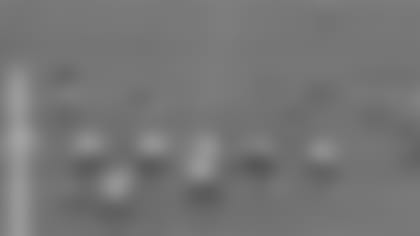 The Texans aligned in the shotgun with Blue next to QB Ryan Mallett, with TE/H-Back Garrett Graham in a traditional fullback alignment. Mallett changed the play, and the run blocking responsibility, a few times just before the ball was snapped.
Eventually, he settled on an inside zone play, similar to the split zone, but with a few wrinkles. Instead of the left side of the line crashing down to the right as in a true zone play, they blocked the covered linemen over them, leaving Graham responsible for the off the ball linebacker #58.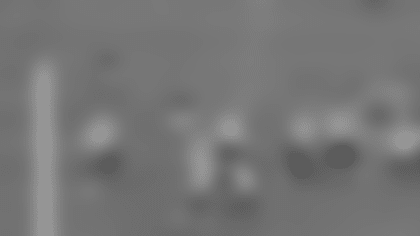 As the play transpired, the front side linebacker Craig Robertson No. 53 saw a hole develop immediately and he shot directly into the B gap (between guard and tackle). Blue immediately spied Robertson and changed course.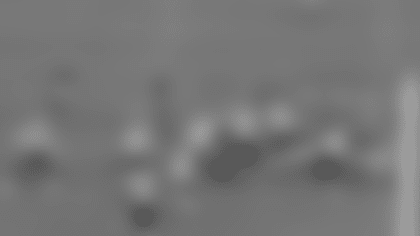 Blue's eyes then shot to the backside where left guard Ben Jones had locked on his responsibility, left tackle Duane Brown had his man under control and Graham had eyes for the inside linebacker.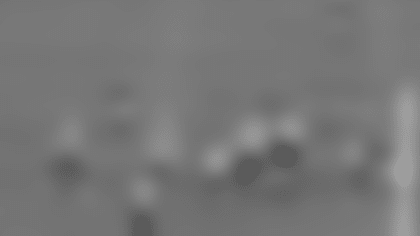 Blue's vision brought him back to the middle of the field where seemingly a substantial hole developed.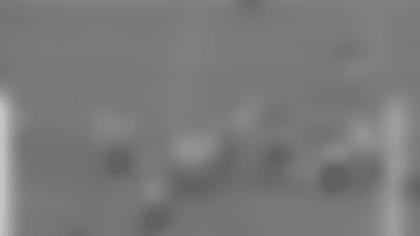 But, the inside linebacker played off Graham's block well and Donte Whitner, the Browns safety, closed on the ball quickly. The hole was open but it doesn't stay open long in the NFL. Blue found that out in a hurry. However, take a look at where the Browns defenders made contact with him in picture number five. Blue hadn't even gotten to the helmet logo at midfield.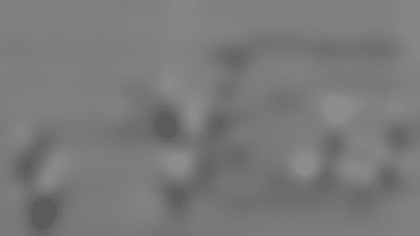 But, look where he ended up. Three to four yards after first contact, Blue was finally corralled and brought down. He turned a potential significant tackle for a loss into a seven yard gain on first down.
Vision...with which to see Robertson.
Burst...with which to speed through the open hole.
Power...with which to carry a pair of Browns for additional yards after contact.
All are hallmarks of successful big backs in the NFL and Blue flashed all of those attributes on one of his 36 carries in Cleveland on that day. Coaches often say that the biggest leap forward in a player's advancement is from year one to year two. Blue showed what a versatile weapon he can be, but without Foster for some time, he's got to be an even more accomplished runner in this offense. Looking back at a run like this, it's evident that he can be just that in the future.