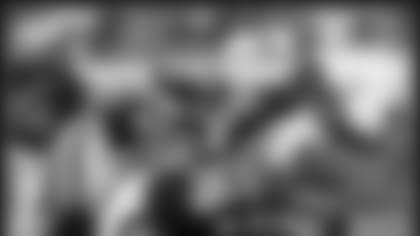 Walker recorded 29 of his 45 career sacks over the past three seasons.
When he came to Houston as part of the 2002 Expansion Draft group, Gary Walker was perfectly clear about his intentions. Houston was the city where he began his football endeavors, and whenever the time came to put his playing career to rest, he didn't want a thing to change.
That concept became a reality today when the Texans announced that Walker had been re-signed to a multi-year contract, enabling the two-time Pro Bowler to finish out his career clashing helmets along the Texans defensive line.
"I expressed from day one, this is where I started my career in 1995 with the Oilers, and to have it end here is a blessing to me," Walker said Wednesday afternoon.
During the 2003 season, Walker spent most of his time watching with frustration from the sidelines. A shoulder injury suffered during the Texans preseason bout against Dallas prevented him from starting at defensive end at the beginning of the regular season and when he did recover, he was only able to see action in four games before a turf toe injury eventually landed him on the injured reserve list.
The hiatus from playing was an unfamiliar situation for the nine-year NFL veteran. Walker didn't miss a snap during his first season with the Texans and prior to his arrival with the new franchise, he had only missed three starts over seven seasons.
Regaining healthy status and finding security in a new contract means Walker can return to the playing field minus distractions and nagging injuries, a notion he welcomes with open arms.
"I'm 100 percent but my goal is to get to 110 percent," he laughed. "I'll be ready to go when the season starts."
With Walker strong, the Texans defense has much to look forward too, especially paired with Seth Payne's anticipated arrival back at nose tackle.
The Texans organization and coaching staff values Walker's presence and without a doubt, nailing down his contract is a solid, initial move to take in the 2004 free agency race.
"He's going to be the first step and the first building block in terms of our ability to improve our football team," head coach Dom Capers said. "I couldn't be more excited about having Gary back. I think it's a great way for us to start off this free agency period."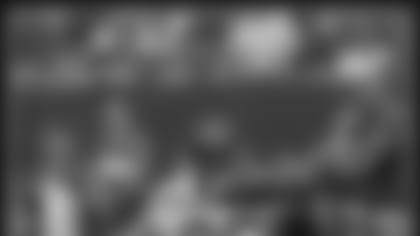 "As we look around the league, we feel that Gary is certainly one of the premier defensive linemen in the league," head coach Dom Capers said.
Capers is very familiar with Walker's disruptive defensive style of play. The two spent time together in Jacksonville during the 1999-2000 seasons when Capers was the team's defensive coordinator, Walker a starting defensive tackle. With the Jaguars, Walker posted a career-high 10 sacks in 1999 and earned his first Pro Bowl nod in 2000 after collecting 73 tackles and 7 1/2 sacks.
In 2002, Walker was an effective cog on the defensive front, lining up at the defensive end position where he made a career-high 115 stops and 6 1/2 quarterback takedowns, a performance that induced another trip to Hawaii.
Texans general manager Charley Casserly was extremely conscious of Walker's worth and always a strong believer in sustaining a cohesive and familiar nucleus of players, felt that retaining Walker would be in the club's best interest.
"In order to win, you have to have great players and obviously Gary's a great player," Casserly said. "In order to get great players you have to have a commitment from ownership and I think this is an example of Bob McNair's commitment to bring a championship team here to Houston."
Though there was a possibility that Walker would shop around when the free agency clocked sounded, both Casserly and Walker agreed that finding common ground was always the intent.
"In any contract negotiation you have a back-and-forth that goes with it and there was no question in my mind and there was a commitment from Gary and a commitment on our side to try and get this deal done," Casserly said. "I always believed we would have a press conference announcing this signing. The question was when would it happen?"
Part of the franchise's inaugural squad, Walker will always hold a significant place in Texans' annals and within the Houston community. That bond left a resonating imprint with Walker and reassured him that Houston was where he wanted to live, work and help build a championship team.
"To be out at the Rodeo this past weekend and see the support of the fans and listening to people say what they said to me was great," Walker said about remaining in Houston. "My heart is here in Texas. Texas is where I belong."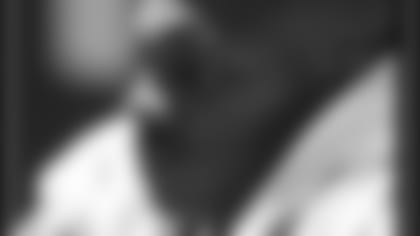 Walker played in 15 games with nine starts during his rookie season with the Houston Oilers.
With the contract signing behind him, Walker is ready to move full-steam ahead in the Texans offseason workout program, including a physical workout regimen as well as…scouting duties?
"I can concentrate on being a recruiter now more than anything," Walker smiled.
Walker's experience within league circles and opinion may be sought after during the Texans free agency recruiting period over the next few months. Walker is on the same page with the rest of Houston's front office in building a championship-caliber franchise.
"You listen to your players," Casserly said about Walker's involvement in picking up new talent. "Players know players. They'll have an opinion and you absolutely do listen to them. Sometimes you can't afford them but you do listen to them."
Walker's now come full-circle from his football beginnings in 1995 and although the Texans' free agent acquisitions over the next few weeks still remain a mystery, Walker's enduring presence along the Texans defensive trenches has been solidified.