When linebacker Jay Foreman was traded from the Buffalo Bills to the Texans on April 17, 2002 for kick returner Charlie Rodgers, considering the career season he had just posted in 2001 for the Bills, he was definitely surprised.
In his third year in the NFL after being drafted by Buffalo in the fifth round of the 1999 draft, Foreman posted career highs in starts (16), total tackles (95), and sacks (2 1/2).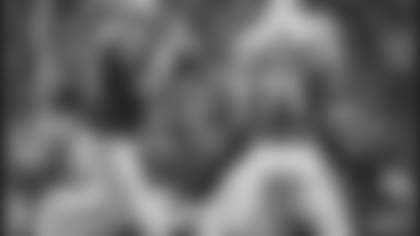 Foreman hasn't missed a start since he arrived in Houston.
His bewilderment has now changed to contentment. That was then -- this is now.
"I was a little surprised, but in hindsight, I think it was the best for both of us, myself and the Buffalo Bills," Foreman said. "I can't really complain about it right now."
Foreman took advantage of his situation, using last season to showcase his skills for the then-expansion Texans. With younger players on the offensive side of the ball, Foreman led a group of veteran defenders that finished last season ranked 16 th in overall defense in the NFL.
Last year, he paced Houston with a career-high 193 tackles, registering double-digit tackles in 14 of his 16 starts, while also contributing one fumble recovery and four passes defensed.
"I didn't know a lot about Jay when he first came to us," head coach Dom Capers said. "But it didn't take me long to figure out the kind of worker Jay was and he turned that into a very productive football season his first year here."
This season, Foreman has recorded 82 tackles, second only to fellow inside linebacker Jamie Sharper. He also has tallied two sacks, two quarterback hurries and one pass defensed. In addition, he has become one of the Texans' models of consistency with 25 consecutive starts for Houston (41 overall), at one of the games most demanding positions.
For some of his other teammates, the cohesion of the defensive unit has been decimated by an injury-plagued season so far. Therefore, Foreman's impressive statistics have prevented the defense from enjoying the same success it did last year.
"The whole season we've done a good job, but we have a lot of people coming in and we can't get a lot of continuity," Foreman said. "We can't get a lot of confidence in players without it. We have been having a lot of good practices so I think we have learned from our mistakes. The last game against Cincinnati it was more the technique errors and that's what it is in the NFL."
However, as far as Foreman is concerned, there would be no place better to turn that around than tomorrow in Ralph Wilson Stadium, where he enjoyed his first three seasons in the NFL. He will not admit to holding any grudges against his old squad, but the fire burns deep within him to even the mark against the team that traded him, after Buffalo defeated the Texans last year 31-24 here in Houston.
"It might mean a little bit more, but not too much more," Foreman said. "Maybe last year it meant more because I had just been traded and I still didn't know how to act or react to the trade.
"Both teams are in the same situation. We're both desperately in need of a win in order to move on to have a positive season, hopefully having a chance at the playoffs. I just want to win."
One reason it means a little more to Foreman than any other game this season is because one of his fellow linebackers last season and good friend, Jeff Posey, signed with the Bills as a free agent this past off-season.
"That will be good to see Jeff because he and I are pretty tight," Foreman said. "Of course it was sad that he went up there and signed, but it seems like he is pretty happy. We usually try to talk once every two weeks."
Foreman simply wants a victory for his current teammates, with no compassion towards his ex-mates. He knows that with the young nucleus of this team, the future burns very bright for the Texans.
         "I'm
         just looking towards the future here," Foreman said. 
         "I just want to win as many games as we can the rest of the
         season and if things go right, hopefully make the playoffs.
         "First
         and foremost, I want a win in Buffalo this week."