Often times the safest picks in the NFL draft, offensive linemen don't receive the same hype of, say, quarterbacks or defensive ends. Yet in many cases they turn out to be much more productive in the pros.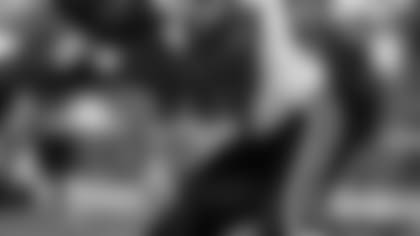 Traditionally, offensive tackle is considered the most valuable position along the line, given how critical it is to pass protection. That job is so important, in fact, that teams are willing to spend top dollar to find an elite tackle, as evidenced by the St Louis Rams' selection of Orlando Pace with the first overall pick in 1997.
This year, Virginia offensive tackle D'Brickashaw Ferguson (6-5, 297) is the cream of the crop. His blend of power, athleticism and technique have drawn comparisons to Seattle Seahawks left tackle Walter Jones, the man who leads the way for 2005 NFL MVP Shaun Alexander.
Ferguson's 36-inch arms engulf opposing defensive linemen and create separation. At the collegiate level, Ferguson's weight was adequate, but he may be vulnerable to bull rushers in the NFL if he doesn't add a few pounds.
The Texans would be a good fit for Ferguson, but with USC's Reggie Bush and North Carolina State's Mario Williams available, he likely will be drafted by either the New Orleans Saints, New York Jets or San Francisco 49ers in the top-five picks.
A player that has shot up draft boards is USC's Winston Justice (6-5, 300). His stellar postseason workouts have impressed team personnel to the point that Justice might be a top 15 pick. At the USC pro day, his 39-inch vertical jump was almost as high as Bush's, while he bench pressed 225 pounds 38 times.
Miami's Eric Winston (6-7, 313) and Auburn's Marcus McNeil (6-7, 322) will most likely be the next two tackles off the board anywhere from the late first round to mid-second round. Both players suffered injuries in college and will have to prove they can stay healthy in order to make an impact in the NFL.
While tackles will flood the top of the draft, no offensive guard is expected to go until the second round. However, a deep group—including three probable second-rounders—will make this a desirable position for NFL teams.
Oklahoma's Davin Joseph (6-2, 304) is a tough, hard-nosed leader who paved the way for a powerful Sooners offensive attack. Joseph moved to tackle his senior year to replace the departed Jamaal Brown (first-round pick of New Orleans in 2005), but won second-team All-Big 12 honors playing guard his junior season and is better suited for that position in the NFL. Joseph's height and ability to pull and trap suit him for inside play in the trenches.
Concerns about weight and athleticism will not keep Georgia's Max Jean-Gilles (6-3, 358) from being selected on the first day. This 2005 first-team All-American will need to stay in shape and work on his footwork in pass protection, but he has the physical tools to be a dominant road-grating run blocker at the next level.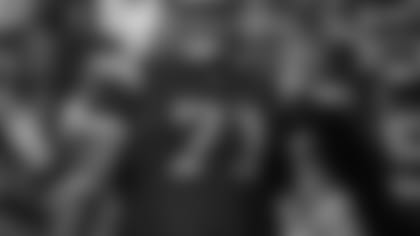 Just like Jean-Gilles, USC's Taitusi Lutui (6-3, 334) struggles with agility and maintaining weight, but his ability to take defenders out of the picture at the point of attack will make him a viable option for teams selecting in the second or third round.
The final position on the offensive line, center, has one prospect that has distinguished himself from others. Ohio State's Nick Mangold (6-3, 300) has the ability to read defenses and make line calls as well as the toughness, experience and leadership to anchor an offensive line.
An All-Big Ten selection, Mangold will need to bulk up to face the bigger nose tackles in the league, but he could compete immediately for a starting job. He could end up with the New England Patriots, New York Jets or Pittsburgh Steelers in the first round.
Other centers that are draft worthy include: Minnesota's Greg Eslinger, Oklahoma's Chris Chester and Louisville's Jason Spitz.
The Texans' interest in offensive linemen this weekend figures to be high. It's a position that has been highly scrutinized, so don't be surprised if the Texans use their second-round pick, or third-round picks, on a talented tackle, guard or center. With the frequency of injuries along the offensive line, teams never can have enough depth.