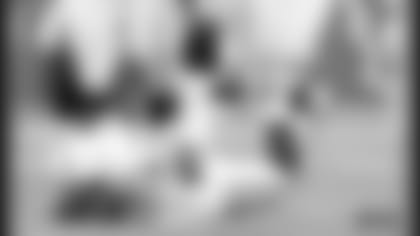 Davis found the end zone twice during his record-breaking day.
It's hard to believe another season is in the books. It seemed like just yesterday the Texans second-year squad was gathering for the start of July's training camp as the football chatter began, predictions were being made and an unknown anticipation of the coming season hung thick in the Houston air.
Sixteen games later, the Texans amassed one win more than they tallied during the 2002 inaugural campaign with their 5-11 record. Three were nail-biting games that lingered so close at their fingertips that players, coaches and fans combined could almost grasp them.
And after the dust settled from today's heartbreaking 17-20 loss in the Texans' season finale against a playoff-contending Indianapolis club, there were many instances to look back upon with a smile. But even more important was the incredible amount of improvement and promise for the team's future, especially from the Texans' top offensive performer, rookie running back Domanick Davis, who surpassed the 1,000-yard rushing plateau in front of 70,680 fans at Reliant Stadium.
Davis entered the final game of his rookie season with 932 ground yards over a 13-game span. He had a chance to become not only the first rookie, but also first player in the Texans' short history to rise over a grand, and the young darkhorse did it with style. Accumulating 99 yards and the Texans only two touchdowns of the day, Davis finished his breakthrough year with 1,031 total rushing yards, added eight touchdowns and 351 receiving yards.
The fourth-round draft pick wasn't supposed to do this though. For starters, he missed most of training camp with a broken hand. When he did return, no one really knew what to expect. While his accomplishments as a ball carrier and kick return man at Louisiana State were impressive, his role on an NFL squad was still a mystery. Davis knew better than anyone what he was capable of producing, but even he wasn't sure if the opportunities would arise to prove his potential.
"Not at all," Davis said about expecting to reach 1,000 yards. "I knew they wanted to use me on third downs and maybe special teams, but I never knew all this was going to happen."
The coaching staff was unsure to what extent Davis' offensive value would develop into this season, but they did see something very special from the outset. Even when Davis was injured during training camp, his dedication to studying film, commitment to the playbook and meetings and never-quit attitude caught many eyes.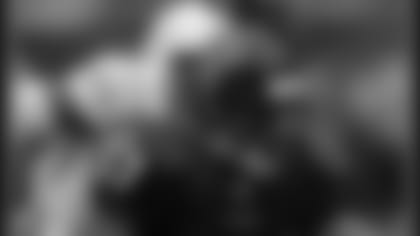 "I have to thank my offensive line for helping me get 1,000 yards this season and Moran Norris has done a wonderful job blocking for me," a gracious Davis said after the game.
"He wasn't a real heralded guy coming in, a fourth-round draft pick, and that didn't make any difference to him," head coach Dom Capers said after the game. "He's got a blue collar work ethic and went through some adversity in training camp breaking his hand so it set him back behind but it didn't slow him down during that time, he took advantage of it."
With the season underway, Davis showed convincing signs that he could play a key role in a new-and-improved Texans' offense. In what still stands as the Texans' single-game rushing record, he racked up 129 yards in his first career start on October 19 against the New York Jets.
Davis was just getting started though, he went on to become a five-time NFL Rookie of the Week winner in addition to NFL Rookie of the Month honors for the month of October. With young players like Davis, wide receiver Andre Johnson and quarterback David Carr behind center, the future direction of Houston's offense looks pretty hard to defend.
"When he had his chance, he went out and produced and that's all you can ask for so I can feel good about Domanick moving into this second year," Capers said. "Being able to come in and get 1,000 yards during your rookie season, that's no small accomplishment."
Davis surpassed the milestone at the very beginning of the third quarter against the Colts with a 14-yard scamper on the Texans first play from scrimmage in the second half.
On the same drive, he sealed the memorable occasion with a 13-yard touchdown run, his second of the game. It was the third time in his one-year career that Davis notched a multi-game scoring outing to tie the team record with Stacey Mack and David Carr for two-touchdown performances.
While the close loss left a bitter-tasting finale to what was a very spirited second-year run, the overabundance of talent and youth will only continue to flourish in 2004 with players like Davis leading the way.
"I think we've got an awful lot of players on this team that are putting together the right way to give us a foundation to build on and move forward into our third year and that's encouraging," Capers said.