EDITOR'S NOTE:This is the second of a three-part series dissecting the Texans' take on the Super Bowl XXXVIII matchup between Carolina and New England. This article looks back at Houston's 23-20 overtime loss to the Patriots. We earlier focused on the Texans' win over the Panthers. Tomorrow we'll look at how the Texans think the Super Bowl will play out.
The Patriots' remarkable 14-game winning streak is alive and well as New England heads to Houston for its second Super Bowl appearance in three seasons.
But the streak very nearly ended at six games two months ago at Reliant Stadium. That is, until Patriots quarterback Tom Brady engineered one of his Paul Revere rides to rally New England to a 23-20 overtime win over the Texans.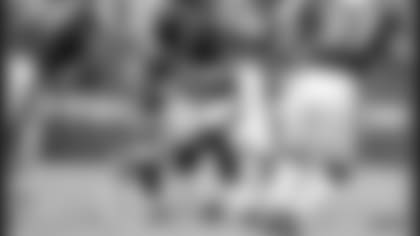 Banks and the Texans had trouble generating yards against the Pats.
Not once, but twice, the Texans had the game firmly within their grasp. But New England escaped and since then has won seven more games in a row by an average of 11.7 points. In fact, only the Titans and Colts -- the Patriots' playoff victims -- have come as close as the Texans did to knocking off the AFC champs.
We know, we know, close only counts, as they say, in horseshoes and hand grenades. But Houston's near miss can serve as a blueprint for the Panthers as they try to end New England's streak in Super Bowl XXXVIII.
Quarterback Tony Banks got his second start of the season Nov. 23 against the Patriots after David Carr went down the previous week at Buffalo. Banks rallied Houston to a win against the Bills and beat the Panthers in his previous start so the Texans were confident in their backup signal-caller.
But just like the Carolina game, Houston's offense got off to a slow start, managing just a field goal and 65 total yards in the first half against the NFL's top-ranked scoring defense. Four of the Texans' five first-half drives resulted in a three-and-out.
The Patriots, meanwhile, were humming on offense and catching some breaks. Brady connected with rookie wide receiver Bethel Johnson to give New England a 7-3 lead early in the second quarter. Later in that quarter, Brady threw a ball right to strong safety Eric Brown near the goal line. Brown intercepted the pass but then fumbled and the Patriots recovered, salvaging a field goal for a 10-3 halftime lead.
Again, like the Panthers game, the Texans were statistically dominated in the first half but found themselves down by just a touchdown. Banks had completed just three passes for 18 yards but halftime gave the offense time to regroup. Remember, with Patriots head coach Bill Belichick, you never know what you're going to get. Against Dallas the previous week, New England lined up in a 4-3 defense. In Houston, the Patriots switched to a 3-4, inserting veteran Willie McGinest in as a fourth linebacker and yanking right defensive end Jarvis Green.
"Bill Belichick is about as much of a mastermind that there is in this league," Banks said. "No matter what personnel he has, he's going to get the most out of them. No matter what scheme he's running, he's able to confuse quarterbacks and that's the name of the game for them.
"I think he would rather have veterans out there that have played for a while as opposed to a bunch of athletic guys. His veterans are pretty athletic and have played in every type of scheme imaginable for other teams. I don't think there is a whole lot of extra coaching going on. They are able to put in their scheme at the beginning of the week and there are able to execute."
Houston's defense was bending but not breaking and that trend continued on the first possession of the second half. The Patriots marched all the way to the Texans 34, but cornerback Kenny Wright broke up a pass on 4th and 5. The Texans managed one first down before punting and pinning New England at its own 9.
Six plays later, the defense gave the offense the break it needed. Cornerback Marcus Coleman picked off Brady and scampered 29 yards to the Patriots 11. Two plays later, Banks hit wide receiver Andre Johnson in the back of the end zone and the game was tied at 10.
New England had consumed the ball for more than 12 minutes of the third quarter but suddenly found itself in a dogfight.
Yet Brady kept pushing. He drove the Patriots to the Texans 10, but was dropped by defensive tackle Junior Ioane on third down, forcing a 32-yard field goal by Adam Vinatieri. New England regained the lead 13-10 but the Texans were starting to get shots on the quarterback. Houston would finish the game with four sacks for 24 yards.
"A lot came from our ability to drop defenders in coverage," linebacker Kailee Wong said. "We ran a defense very similar to what they run. That was the reason we were able to get shots on him, but as we've seen in the playoffs not many teams have been able to do that."
The Patriots got the ball back and again crossed midfield. But Wong crashed the pocket and forced Brady to fumble. Fellow linebacker Jay Foreman recovered and rumbled 33 yards. The Texans had the ball at the Patriots 31 with just under nine minutes remaining.
Houston faced a 3rd and 9 but Banks calmly found Johnson for a 12-yard gain.
"Any time New England has a team in third and long, they have blitz packages," Banks said. "They came after us in the fourth quarter on every third and five plus. They have three down packages and they do an effective job of running over loads to each side, so they don't have to rush more than five or six guys, but it looks like they are rushing 10 guys to one side.
"It's all about confusion for them. They confuse the best quarterbacks in the league."
But Banks wasn't confused two plays later. On 2nd and 8, he dropped back and found tight end Billy Miller down the seam for a 16-yard touchdown. The Texans had a 17-13 lead, the crowd was back into the game and the Patriots for the first time appeared a bit rattled.
On the very next series, Brady fumbled the snap on 3rd and 5, forcing a punt. Strong safety Ramon Walker broke through the line and blocked the punt -- Houston's first of the season -- giving the Texans the ball at the Patriots 20. Four plays later, Kris Brown booted a 31-yard field goal and the Texans -- despite gaining just 133 total yards -- had a 20-13 lead with 3:15 remaining.
But that was plenty of time for Brady.
Facing a 3rd and 10, his line buckled down and gave him ample time to find tight end Daniel Graham for a 33-yard gain at the two-minute warning. Suddenly, the spring was back in New England's collective step.
"Their offensive line works well together," nose tackle Steve Martin said. "Those guys have played together for years now and they know each other. When you have a feel for where your quarterback is going to be and what he's going to do, they are able to lock the door and not let anybody get to their quarterback."
Four plays later, the ball was at the Texans 4 but New England was staring down a 4th and 1. Brady rolled out and found Graham in the end zone for the tying touchdown. Even if the pass had fallen incomplete, referee Mike Carey had flagged Wong for roughing Brady.
The game headed to overtime and the extra frame couldn't have started off better for New England.
On the first play from scrimmage, Patriots linebacker Mike Vrabel picked off Banks and returned it to the Texans 23. Brady then set up Vinatieri for a 37-yard field goal. Houston needed another monumental play on special teams.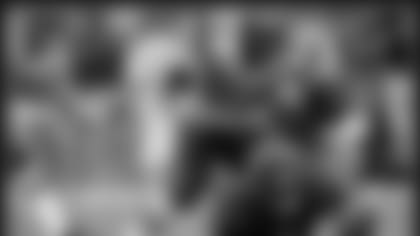 Walker blocked two kicks to keep Houston in the game.
The Texans got it from Walker, who blocked his second kick of the afternoon. Houston took over at its own 27 and running back Domanick Davis finally found some daylight. The Texans reached the Patriots 40 but were forced to punt. Punter Chad Stanley pinned New England at its own nine-yard line.
On the next series, the Texans' defense came through again. Linebacker Jamie Sharper sacked Brady on 3rd and 6, forcing a punt that gave the Texans tremendous field position at the Patriots 35. All Houston had to do was run a few plays and trot out Brown for a field goal. But New England's defense hunkered down.
"If you can identify the scheme, you can block it," tackle Chester Pitts said. "New England's line has big, strong physical types that play hard. They have some real athletic ability to them. You have to be on your A-game or they can make you look real bad."
In this case, they made the Texans look bad. Davis rushed over right tackle for no gain. Then he tried the left side and McGinest stopped him for a five-yard loss. Banks threw incomplete to Johnson on third down and the field position was wasted.
Given new life, Brady picked apart Houston's weary defense, which couldn't match the pressure it had generated earlier. Brady completed 5 of 7 passes as New England reached the Texans 10. This time Vinatieri's kick was true and the Patriots escaped with a 23-20 victory.
"They made the plays at crunch time," head coach Dom Capers said afterwards. "We had a number of opportunities and unfortunately we weren't able to capitalize on our opportunities and they capitalized on theirs.
"But I thought our team fought their tails off."
Indeed the Texans did. And few teams have come as tantalizingly close to knocking off the Patriots since that game. The Texans were outgained by 303 yards but big plays on defense and special teams kept it close. Houston's defense pressured Brady into mistakes and won 13 of 20 third-down situations.
The Texans' primary problems against the Patriots? They struggled running the football and their receivers couldn't get open against New England's outstanding corners. Banks completed just seven passes to wide receivers, mainly because the Texans couldn't generate enough of a rushing game to keep the Patriots secondary honest. That was never more evident than on the last drive of overtime.
         But
         Carolina boasts the NFL's seventh-ranked rushing offense with two
         solid backs in Pro Bowler Stephen Davis and DeShaun Foster. Plus the
         Panthers have a front four that could give Brady fits if they can
         hit their gaps. Can the Panthers stop the Patriots' streak? We'll
         examine that tomorrow.