Texans head coach Dom Capers sat in his office adjacent to his team's locker room Sunday morning, going over his final notes in preparation for Houston's game against Buffalo.
Capers noted that the Bills had already played three overtime games just five weeks into the 2002 season.
"We have to go into this game thinking that we might have to win the game on the last play," he said.
Capers was dead on. Buffalo's 31-24 victory did come down to the wire as the Texans reached the Bills 14 with 52 seconds remaining. But an offense that seemed to mature throughout Sunday's contest couldn't make the decisive play at the end to send the game into overtime.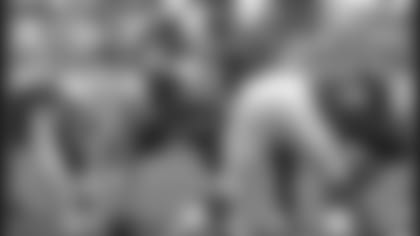 Carr posted career-high numbers Sunday in his fifth start.
After quarterback David Carr scrambled for two yards on first down, he threw three consecutive incompletions, the last to wide receiver Jermaine Lewis in the end zone. Despite setting season highs in points (24), total yards (338), rushing yards (141) and passing yards (197), the Texans still couldn't avoid their fourth consecutive setback.
"I felt real confident that we were going to get it into the end zone," Texans center Steve McKinney said. "I felt like we had the momentum, we were moving the ball.
"I don't know if that's part of being a young team or what. But that's something that we have to learn to do -- win the close ones."
Houston entered the game ranked last in the league in total offense but today's numbers were encouraging. The Texans made their intentions known right away as Carr hit wide receiver Corey Bradford on Houston's first offensive snap for an 81-yard completion, leading to a field goal.
Carr sizzled in the second quarter, completing 7 of 8 passes for 119 yards and leading Houston on two long touchdown marches. He capped the second one off with a 17-yard scoring scramble -- his first career rushing touchdown and the first rushing score in Texans history.
"David was under some pressure at times and he was doing a great job of getting out of the pocket, scrambling and picking up some yards that way," McKinney said.
But after racking up 258 yards in the first half and taking a 17-10 lead into the locker room, the offense started to sputter in the second stanza. The Texans gained just 80 total yards in the second half, 46 of them on that final drive. Houston's lone touchdown after intermission was set up by a fumble recovery by linebacker Jamie Sharper at the Bills 8.
"They wised up and stopped playing man coverage," Carr said. "They did a good job in the second half of sitting in a zone and making us run the football."
The Texans ran the football extremely well, especially Wells, who had 70 yards on just 12 carries. After Buffalo took its first and only lead of the game, Wells rumbled 20 yards to the Bills 30 at the two-minute warning.
But Buffalo's defense stiffened, forcing Houston into a 4th and 7 at the Bills 27. Carr dropped back and, sensing Bills linebacker London Fletcher rushing towards him, ran to his right and scrambled 13 yards for a first down.
But the Texans would stall in the red zone. Carr's final attempt was a tough throw to Lewis, who got his hands on the ball despite being sandwiched by two defenders.
"David was just trying to get it to somebody," Lewis said. "They had been running pretty much the same defense down the stretch. I tried to make a play, David tried to make a play and we just came up short."
All four losses since Houston's season-opening to Dallas have been frustrating, but last-second setbacks are especially hard to swallow, even with the offensive improvements.
"We played well offensively," McKinney said. "We were able to run the ball effectively and we were pleased with that.
"But at the same time, these games that come down to the wire like this hurt so much more than the blowouts."
Still, Texans fans saw an offense with essentially five rookie starters grow up a lot Sunday. The scoreboard doesn't lie but neither do the numbers on the stat sheet. This offense has prolific days ahead of it.
"Coach Palmer has done a good job of seeing what we do well," Carr said. "We can execute and do more. When we get there it's going to be exciting."
Carr's numbers were most encouraging. His passer rating of 99.5 was a career high and he didn't throw an interception for the first time all season.
"We're seeing David become more comfortable with our offense," Capers said. "He's become a better competitor and he's gotten better in some areas every week. That's encouraging because we know if we're able to continue to do this with David, he gives us explosive capabilities for our offense."
"David did a lot of growing up today," said Bradford, whose 126 yards receiving marked the best day of his five-year career.
Now the Texans begin preparations for the Browns -- more confident of their offensive potential, but also more cognizant of how games are won and lost in this league.
         "Everybody
         fought hard today," Wells said. "We just have to find out a way
         to become that team that makes those plays down the stretch."