Third seasons can indeed often times be the charm.
Lou Gehrig moved into the Yankees starting lineup in his third season. Ted Williams hit .406 in his third season. Joe Montana led the 49ers to their first Super Bowl in his third season. Jerry re-introduced us to the Pez dispenser in the third season of "Seinfeld." Billy and Alison broke up on the third season of "Melrose Place."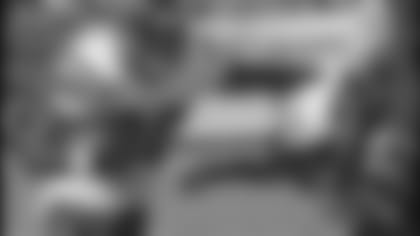 On paper it doesn't appear that, at the midpoint of their third season, the Texans are much further along than they were at this point last season. After all, Houston's 4-4 record is just one game better than the Texans' 3-5 record at the halfway mark of 2003.
But ask anybody in this building, or around the league for that matter, and they'll tell you this is a much-improved club.
"I think we've improved as a team in some of the critical areas that give you the best chance of winning," head coach Dom Capers said. "I've been pleased that we've made progress. We picked ourselves up from being 0-2."
The Texans rebounded from a rough start to win four out of five games before losing at Denver this past Sunday. After failing to win consecutive games in either of their first two seasons, the Texans have done it twice in 2004. Houston has won both of its division games, including its first win over the former Oilers.
And for the first time in their brief history, the Texans are playing games in November that mean something. That's not to take anything away from their first two seasons. Belying the work ethic of their head coach, the Texans have always played hard in the latter part of the season. But after eight games in 2003, Houston found itself four games behind the 7-1 Colts.
HALFWAY HARDWARE

Offensive MVP
Carr has played great, but we'll go with Johnson, who is already affecting defensive gameplans at the tender age of 23. He has 45 catches for 693 yards and two TDs.
Defensive MVP
Sharper leads the team with 89 tackles and also has two sacks, two forced fumbles and a fumble recovery for a score.
Biggest Surprise
On the practice squad at this time last season, Demarcus Faggins has 19 tackles, six passes defensed and two picks, including one for a TD. Armstrong has also stepped up in his second season.
Offensive Play of the Season
Johnson has had plenty of highlight-reel catches. Our favorite was his backflip against Minnesota, but that was in defeat. So we'll go with the acrobatic grab at Kansas City that led to the tying TD in the fourth quarter.
Defensive Play of the Season
Coleman's 102-yard INT return for a touchdown at Kansas City turned a potential 21-6 deficit into a 14-14 tie and jumpstarted the Texans' comeback from an 0-2 start.

This season? The Texans are right in the thick of the AFC South chase, just one game behind the Jaguars and Colts. Houston heads to Indianapolis this week for arguably the biggest game in the franchise's brief history.
"We're playing for something now," quarterback David Carr said. "We have a chance to do some great things with the guys we have. You don't have talent like this on a lot of teams. We've put some good guys together and they're playing with some passion."
Much of the Texans' improvement can be traced to an offense that is starting to find a consistent rhythm. Houston ranks eighth in the NFL in total offense (357.4 yards per game) and fifth in passing offense (257.1). The Texans ranked 31st and 29th in those two categories, respectively, in 2003.
And as the offense has gained confidence, the Texans have developed the ability to make plays when it counts. Houston has outscored its eight opponents 70-31 in the fourth quarter this season after being outscored by 64 points in the fourth quarter last season.
"I think our conditioning has been good and I think that becomes a factor," Capers said. "I think some teams get worn down a little bit both mentally and physically in the fourth quarter. I think our guys are confident and believe that no matter what the situation is in the game that if we play the way we're capable in the fourth quarter then we have a chance to win the game."
Much of that escalating confidence has come under center. The coaching staff expected Carr to take a giant leap forward in his third season and the former No. 1 pick hasn't disappointed. Carr has completed 64 percent of his passes (160 of 250) for 2,162 yards with nine touchdowns and just five interceptions. He's just 430 yards away from his career-high yards total from 2002.
Carr leads the NFL with 24 pass plays of 25 or more yards and is second in the league in passing yards per attempt (8.65).
Wide receiver Andre Johnson has become a legitimate star, one worthy of Pro Bowl consideration. In just his second season, Johnson has caught 45 passes for 693 yards and four touchdowns. His receiving yardage total ranks second in the AFC. The numbers are impressive. Some of the actual catches have been amazing.
Wide receiver Jabar Gaffney is having his best season with 28 catches for 211 yards and two scores. Derick Armstrong is fulfilling the promise he showed on the practice field last season. He has 23 grabs for 344 yards and one touchdown. And Corey Bradford is still a deep threat, averaging 14.7 yards per catch with two scores.
The running game has been an issue. Houston moved to a zone blocking scheme this season but the Texans don't have a run longer than 14 yards by one of their running backs. (Carr has a 16-yard scamper.) Houston ranks 23rd in the NFL in rushing, averaging just 100.3 yards per game and 3.3 yards per carry. Running back Domanick Davis has battled injuries, limiting him to just 360 yards. Jonathan Wells has stepped in nicely as a backup with 227 yards but the Texans still know they need more ground production to make a run in the season's second half.
And while the Texans have had little trouble moving the ball downfield, they would like to improve their efficiency in the red zone. Houston ranks 23rd in the league in red zone scoring efficiency, scoring a touchdown on just half of its 24 trips.
The Texans' defense was expected to struggle a bit at the outset of the season, considering Houston started rookies (cornerback Dunta Robinson, linebacker Jason Babin) and moved two veterans (Kailee Wong, Marcus Coleman) to new positions. Coleman is now a free safety and Wong moved from left to right outside linebacker.
Houston ranks 25th in the league in total defense and 20th in points allowed. But the Texans have picked off 11 passes (only the Seahawks have more), which has helped them turn a minus-six turnover margin after two weeks into an even margin at the season's midway point.
"Considering where we started turning the ball over on offense, I think we've done a good job of getting that turned around," Capers said.
Two of the interceptions have been returning for touchdowns, including a 102-yard return by Coleman that rallied the Texans to their first win of 2004 at Kansas City.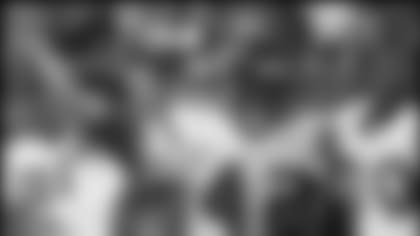 Coleman has had no problems adjusting to his new role and was rewarded with a contract extension 10 days ago. Robinson has had the usual rookie growing pains, but leads the team with three interceptions. Mic linebacker Jamie Sharper is having another strong season, leading the team with 89 tackles. He also has two sacks and returned a fumble for a touchdown against Oakland. Right defensive end Robaire Smith has been a solid acquisition up front. Wong is having his best season in Houston, leading the team with 3 ½ sacks.
But the Texans have just 13 sacks – only the Jaguars and Browns have fewer. The coaching staff knows that more pressure on the opposing pocket equals less pressure on Houston's secondary. The Texans have done better on third-down defense in recent weeks, but it's an area that still needs improvement.

Kicker Kris Brown has connected on 13 of 15 field goals, including a game-winner at Kansas City. Punter Chad Stanley remains one of the league's best. Only 12 of his 33 punts have been returned. The Texans have done a good job covering punts but gave up a kickoff return for a touchdown at Detroit in Week 2. Returner J.J. Moses has yet to break a punt return longer than 24 yards but is averaging 22.3 on kickoff returns.

The Texans are facing a potentially brutal second-half schedule. After traveling to Indianapolis, Houston hosts the resurgent Packers and then Tennessee. The Texans kick off December with two cold-weather games (at the Jets and Chicago) sandwiched around a return trip from the Colts. Houston plays at Jacksonville – in what's fast becoming a heated rivalry – the day after Christmas before wrapping up the season at home against Cleveland. That's eight games against a combined record of 34-30 if you're scoring at home.
It might be a stretch to label the Texans a playoff contender at this point but dismiss them at your own risk. If this third season has taught us anything, it's that the Texans don't enter games hoping to win anymore – they enter games expecting to win. And that has made a world of difference.
"Right now we're 4-4 and it's an eight-game season," Capers said. "We've got some big games, starting this week. But I feel like our team we can get better, especially if we can stay healthy and stay tuned in. And I think our team believes that. Our team is confident that we can play with anybody."
His players agree. And if that's the case, it should make for an interesting stretch run.
"I don't care about respect in the middle of the season," Sharper said. "I want it at the end."