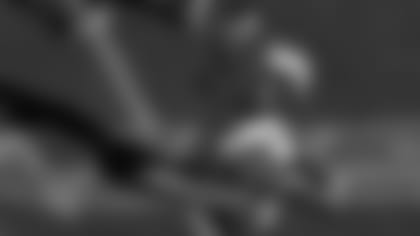 ]( "Houston cornerback D.J. Hayden,")


**This article is part of our 2013 Path to the Draft coverage presented by Warehouse Pool Supply
*
INDIANAPOLIS -- An invitation to the NFL Scouting Combine is a given for some, a distinct possibility for others and a longshot for most. But to University of Houston cornerback D.J. Hayden, it's a blessing.
In a routine practice on Nov. 6, Hayden collided with a teammate and took a knee to the sternum. He said he popped up and had trouble breathing, and saw the team doctor. A rush to the hospital ensued, and in surgery it was discovered he'd torn his inferior vena cava, which Hayden described as "the main vein to the heart." Doctors told him the injury was 95 percent fatal.
Hayden's 2012 season was dashed, and football on the whole became a question mark. Nevertheless, the first-team All-Conference USA defensive back was invited to the Combine, and his dreams of playing in the NFL remain intact.
"If I'm going to play a game, I'm going to play my hardest the whole game," Hayden said Sunday. "I don't feel like I played well in my last game. I just want another opportunity to play another game and do what I can do."
Hayden said doctors have told him the injury, which involved surgery to stitch back together the vein, is not something that will linger with him forever. He's met with 20 teams in Indianapolis. The hometown Texans weren't one yet as of Sunday afternoon, but Hayden shared what it would be like if he ended up with them in late April.
"That would mean a lot," Hayden said. "I'm from Houston. I went to U of H. A lot of guys don't get to play for their hometown team."
A prep star at Fort Bend Elkins, Hayden spent time at Navarro Junior College in Corsicana, Texas. He joined the Cougars in 2010. He said Sunday that he has leaned on former teammate and current Texans quarterback Case Keenum recently for Combine advice.
"Case has been very helpful to me," Hayden said. "I talked to him a couple weeks ago about the Combine. I told him to give me any kind of information he could give me."
Hayden said Keenum gave "good pointers" about what to look for with the medical exams, since Hayden's story is so unique.
"I was going to have to go through some scans and intense questions," Hayden said. "I knew I'd have to tell my story multiple times, so I got mentally prepared for it."
Regardless of whether he's drafted, Hayden said he is living life to the fullest and taking time to enjoy his relationships with family and friends. His football journey has been a special one, and it's certainly not over yet.
Twitter.com/NickScurfield