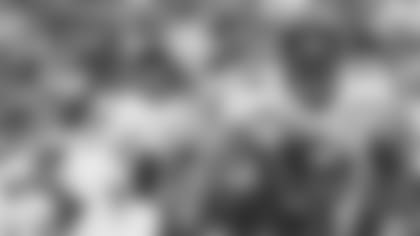 ]( "Texans DE J.J. Watt")

AIEA, Hawaii – When you're the presumptive NFL Defensive Player of the Year, you get a bit of free reign at the Pro Bowl.
Texans defensive end J.J. Watt lobbied all week in Hawaii to get a chance to catch passes in the game, and he did on Sunday at Aloha Stadium. Watt had two passes thrown his way, one from Peyton Manning in the end zone on the first drive of the game. Neither pass resulted in a completion.
"He was so excited, man," Texans Pro Bowl left tackle Duane Brown said. "All week, they practiced it, and I was excited for him. I was upset one was batted down, the other was picked off. Tough luck."
Watt's left pinky finger was bloodied on the first pass from Manning. He did an interview on the sideline with it covered in gauze that was covered in blood, showing it off to NBC's Michele Tafoya as he told NFL commissioner Roger Goodell it was proof that players play hard in the Pro Bowl.
"It's doing alright, man," Watt said after the game. "It's doing alright. It's all wrapped up. I'm going to go get some stitches after this and we'll be just fine.
"(It) just got cut open. I didn't even realize how bad it bled, but it bled pretty good. I'm alright, though. That's football. It's not fun if you're not going to get bloody."
Twitter.com/NickScurfield