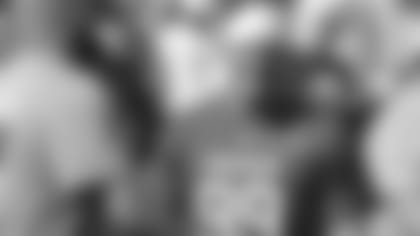 ]( "Texans DE J.J. Watt")

The Pro Bowl isn't exactly known as a high-intensity game.
Good luck telling that to J.J. Watt.
"I'm not a guy that goes half-speed," the Texans' star defensive end said Friday after practicing with the AFC all-stars at the Pro Bowlers' posh resort outside of Honolulu. "It's gonna be fun out there, but I hope I don't ruffle too many feathers."
Watt, 23, is thoroughly enjoying his first Pro Bowl experience. He certainly earned it after leading the NFL with 20.5 sacks and setting a league record for defensive linemen with 16 passes defensed in his second NFL season.
"It's really special for me to be here at such a young age, and I hope I'm here many, many years to come," he said.
Watt went to Oahu's famous North Shore earlier in the week. He wanted to try surfing but said he decided to stay away it because he realized how embarrassing it would be if someone caught him on video repeatedly falling off his board.
"You're not going to see me doing too many hula dances or things like that or trying weird foods," Watt said, smiling. "I'm a stick-to-the-book kind of guy, pretty much. I've gotten to go watch some surfers, not that I've gotten to surf myself, but it's been exciting. When you look out your hotel room window and you see the beaches and the water, you can't beat it."
Watt is in Hawaii just five years after leaving Central Michigan in 2008 to walk on as a defensive end at Wisconsin. He earned a scholarship in 2009, became a first-team All-American in 2010 and was a first-round draft pick in 2011. He tallied 5.5 sacks in an impressive rookie season that now looks like child's play compared to what he did in year two, when he earned the Texans' MVP award, unanimous All-Pro honors and a likely NFL Defensive Player of the Year trophy.
Despite the meteoric rise to stardom, Watt hasn't forgotten what got him here. He routinely was the first AFC player to come out of the locker room for practice this week. He was often one of the last players to leave the field, too, signing autographs for clamoring fans and obliging interview request after interview request after practice. His two guests in Hawaii are his parents, John and Connie, from Pewaukee, Wis.
"It's really cool to be able to hang out with them," Watt said. "They put in so much time and effort to help me get here through all the years, so it's really cool to be able to share an experience like this where we've worked so hard for so many years and now it's finally paying off."
Watt said the best part about the week has been getting to know the rest of the league's best players off the field, away from football. He mentioned seeing Peyton Manning take a picture of his son as he tried on a jersey in the AFC locker room.
"It's really cool just to see little moments like that between guys and their kids and guys and their family," Watt said. "To me, the football's fun, but it's really neat to see the guys outside the pads."
Looking ahead, Watt is already trying to put things in perspective less than two weeks after the Texans' season ended in the Divisional Round of the playoffs at New England.
"It's tough," he said. "You are disappointed. You're very disappointed the way the season ended, but there's nothing I can do about it now. It's not like I can go back and win that game. All I can do is focus on having a good time here and doing everything I can to make next year great."
Twitter.com/NickScurfield