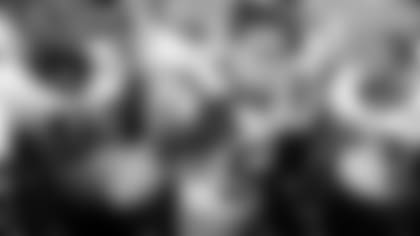 ]( "Texans ILB Brian Cushing")

Four-and-a-half months after suffering a torn ACL, Brian Cushing is on the comeback trail with a singular purpose.
The Texans' defensive captain and 2011 MVP hopes to lead the team to a Super Bowl that will be played in his hometown. Step one is making a full recovery from the left knee injury that ended his 2012 season after five games. Cushing has been rehabilitating at Reliant Stadium since October, intent on coming back stronger than ever in 2013.
"(It's) been going well," Cushing said on Tuesday afternoon in an interview with Texans Radio. "I'll be here for the majority of the time and really just focusing on my rehab, getting back, getting my knee back to 110 percent and just really looking to the year coming up. Obviously, my year was cut short last year, and I'm looking forward to getting back out there with the guys and playing football."
Cushing, who was operated on by surgeon Dr. James Andrews on Oct. 25, said Tuesday that he is "about a week" away from being able to jog.
"Really looking forward to that," he said. "Really, where I stand right now is just looking forward to the next step always and what's coming up and my progression. It's been a long, long journey and I still have a lot to go, but you know, it just makes me cherish playing that much more, because when it's taken away for you, you realize how much you love it."
Cushing called having to sit out the bulk of last season "tough; really tough." The hard-hitting inside linebacker said he knows there are situations he could have helped the team, whether physically or emotionally. He also said he can't wait to play again with defensive end J.J. Watt, the Texans' 2012 MVP and NFL Defensive Player of the Year, and "have a two-headed monster going into every game."
The last game Cushing played was at MetLife Stadium in East Rutherford, N.J., on Oct. 8. His season came to an end courtesy of a low block from New York Jets guard Matt Slauson in the second quarter of that Monday Night Football matchup.
MetLife is essentially in the backyard of Cushing's hometown of Oradell, N.J. It's also the site of Super Bowl XLVIII on Feb. 2, 2014 – a game Cushing has his sights set on helping the Texans reach.
"It would be unbelievable," he said. "To do that, play 15 minutes from where I grew up, and not only that, to step foot on the same field that ended my season last year – there couldn't be anything better than that; let's just say that. That is definitely a motivating factor in the back of my mind right now, something that I keep very clearly in my daily plans."
Twitter.com/NickScurfield