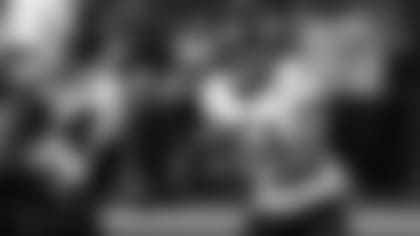 ]( "ILB Darryl Sharpton")

This time last year, inside linebacker Darryl Sharpton was on the comeback trail. He had suffered a gruesome quadriceps injury in October of 2011 and was rehabbing and trying to regain his health. His 2012 season started in the Week 11 overtime win over Jacksonville but ended with a hip injury in the Week 17 loss at Indianapolis.
Now, Sharpton is healthy and has his sights set on the 2013 campaign.
Sharpton spent the first 10 weeks of the 2012 season on the Physically Unable to Perform (PUP) list before his return in November against the Jaguars. He started that game and each of the final six before exiting for good after the loss to the Colts. He's excited to be able to focus on the offseason and 2013, and not on the day-to-day grind of coming back from injury.
"Right now, I feel really healthy, and it's a good feeling to have right now," Sharpton said. "I can just run, sprint, lift weights and just get in the best shape possible."
That's good news for a defense that never saw Sharpton paired up on the inside with captain Brian Cushing last season. A knee injury in the Week 5 road win at the New York Jets sent Cushing to injured reserve.
In a "Texans All Access" interview on Feb. 19, Cushing said his rehab from the torn anterior cruciate ligament was "going well." The prospect of being paired up with Cushing for the first time since October of 2011 is invigorating for Sharpton, a fourth-round draft pick out of Miami in 2010.
"I think it'll be great," Sharpton said. "I think me and Cush have great chemistry and we'll be a forced to be reckoned with." A healthier inside linebacker corps, which also could get bolstered via the draft in late April, will greatly benefit the Texans' defense.

Before offseason voluntary workouts get going in a month or so, Sharpton plans to return home to South Florida.

"I'm gonna go back home to Miami, visit with my parents, my family a little bit, train down there at the University of Miami and just get a little bit of home experience," Sharpton said.
Twitter.com/DoughertyDrew