Texans defensive tackle Seth Payne celebrated his return to Reliant Stadium the old fashion way.
Buccaneers running back Michael Pittman has the mark on his helmet to prove it.
Payne started Thursday night's game against Tampa Bay – his first start since tearing the anterior cruciate ligament in his left knee in Week Two of last season. He dropped Pittman for a one-yard gain on the first play of the game.
It might have been his only tackle of the night. And the team might have lost 17-9. But Payne is treating the game like a victory.
"It felt good to be back out there with those guys," he said. "It felt like I was a rookie again. I didn't really know what to expect when I got out there it had been so long. It was a little uncertain. But once I got out there and got a couple plays it felt pretty good."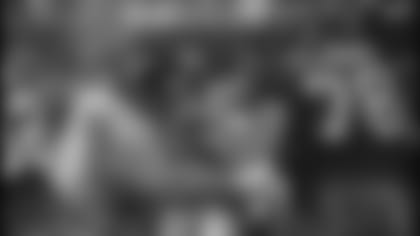 Payne played with the first team defense and sparingly into the third quarter.

He said everyone in the Texans' organization has been patient during his recovery, which required three surgeries and taking a ligament from his right knee to repair the damage in his left.

Payne said he could have been more productive Thursday night, but the Buccaneers used seven blockers on most passing plays.
"I had some good plays, I had some bad plays," he said. "I probably played like a rookie with promise, maybe. If I can get up to veteran status next week I'll be alright."
He played a little more than 30 plays Thursday and said he should have no trouble playing the 50-plus snaps in a regular season game.
"Seth Payne played more than what we thought he would play this evening," Texans head coach Dom Capers said. "I think as the game went on he got better. Seth is a smart guy. He knew he needed the work and he got more comfortable as the game went on."
The Texans hope Payne's return starts a trend for the defense, which has had its share of injuries during the preseason. Starting defensive end Gary Walker has been sidelined with a groin injury for about a week.
But Capers hopes the starting line of Payne, Walker and Robaire Smith can start practicing together Monday. The team hopes that the tart of solidifying a revamped defense heading into the opener against San Diego Sept. 12.
"They expect to win," Payne said of his teammates. "They know what they need to do to win, including our rookies. If we keep doing the things we're doing in practice we should have some success this year."
MAKING A STAND:The first team defense played through the first quarter against the Buccaneers with little fan fair. But a goal line stand to begin the second period ignited the group and the fans at Reliant Stadium.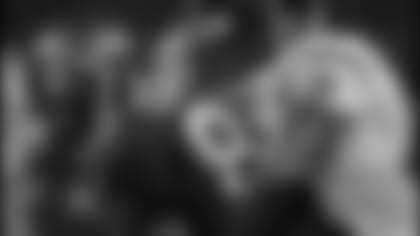 The Buccaneers faced first-and-goal from the two with 14:17 left in the half, but the Texans' defense held strong for three-straight plays, capped by a touchdown-saving tackle by safety Marcus Coleman.
Tampa Bay settled for a field goal on the drive.
"We have high expectations, there's no doubt about that," starting linebacker Kailee Wong said. "We expect a lot out of our team, out of our group. We definitely want to come in there and play well.
"We've done a good job on goal line. It's important. You can measure the toughness of your guys on goal line. It's definitely a tempo setter."
Most importantly the Texans finished the game healthy. Running back Tony Hollings was the only notable injury in the game. He suffered a thigh bruise in the second quarter.
"The preseason has had its ups and downs as far as the games, but I think as a team we've got guys that are healthy and guys that are learning," starting linebacker Jamie Sharper said. "That's what you want going into the first game, to be as healthy as possible."
SEEING STARLING:Going into Thursday night's game it was thought wide receiver Kendrick Starling's best chance at making the 53-man roster was on special teams.
Turns out he showed a thing or two on offense to go with some glitz on the punt team.
Starling was second on the team in receptions against the Buccaneers, catching three passes for 48 yards. He also leveled return man Mark Jones on the game's final punt.
It was a momentum turning play, but it was too late for the Texans, who were down with just under two minutes to play.
"I just wanted to come out here tonight and perform, and see if I could get better than the last three games we played," Starling said. "I just went out there and wanted to see what I could really do."
The rest of the Texans' special teams performed well Thursday night. Return man J.J. Moses returned the second half kickoff 41-yards.
"Whenever you have new guys on special teams, things are going to be a little different," Moses said of the return game. "We've really emphasized taking (kicks) back all the way in practice."