Let's set the record straight. Although some would have you believe he's pulling a George Blanda, Tony Banks is still 138 days shy of his 31st birthday.
But when you've been backing up a second-year quarterback since he took his first NFL snap, people tend to dwell on your experience. Banks certainly has experience -- he has started 76 career games -- and that experience is certainly an asset.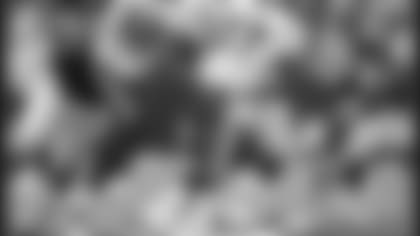 Banks and his offensive mates face a tough New England defense.
That's also just one reason he's a Texan. The other? Banks can play.
"Experience doesn't give you this kind of arm," he said Wednesday. "My right arm has gotten me to where I'm at. I look forward to making throws that can help us win football games. I think that's my best attribute. And obviously, year by year I'm getting better."
Banks will take his second go-round as the Texans' starting quarterback this week as Houston gears up for the 8-2 Patriots. After helping the Texans defeat Carolina on Nov. 2, Banks returned to the sidelines the following week at Cincinnati. But when David Carr suffered a right shoulder sprain in the first quarter at Buffalo three days ago, Banks stepped in and helped engineer a 12-10 win over the Bills.
Now, after the Texans declared Carr out for the this week's game, Banks returns to the starting role.
"It definitely helps when you're able to practice with the first team all week," he said. "We'll see what our package is this week and we'll have to adjust during the game. But it always helps when you can practice with the first team."
Nothing against his backup role. It's what Banks signed on for in Houston. It's a role he has accepted and it's evident he can play well in relief. But, perhaps like Atlanta Braves closer John Smoltz, Banks is accustomed to being a starter, no matter how well he performs coming out of the bullpen.
"I think Tony Banks has been a starter in the past and I'm sure he could start for a number of teams," head coach Dom Capers said. "We've got total confidence as a coaching staff and our players have a lot of confidence in him."
In New England, Banks and company face a defense that can give multiple looks. Last week, the Patriots confronted Dallas with a 4-3 alignment. This week, New England is sporting a 3-4, inserting veteran Willie McGinest in as a fourth linebacker and yanking right defensive end Jarvis Green.
"You don't know what you're getting week to week," Banks said. "Once you get in the game and see what they're doing, they pretty much stick to it. But it's usually a pretty good package so you have to adjust."
Indeed. Since a season-opening 31-0 loss at Buffalo, the Patriots have allowed just 13.7 points per game. They've held three opponents without a touchdown. And the Texans are preparing for a slugfest similar to their win over the Bills. New England doesn't allow many big plays -- its opponents have only scored four touchdowns outside the red zone, the lowest total in the NFL.
"They're the best veteran defense we're going to face," Banks said. "They're on top of their assignments. They don't have a stellar, super pass rusher but their scheme allows them to overload on different sides. You just have to adjust."
Banks has completed 68.3 percent of his passes and the Texans will need that kind of efficiency from him again Sunday. The Patriots play exceptionally well against the pass. New England has picked off 16 passes while allowing just four touchdown tosses, which leads to a league-low opposing passer rating of 57.5.
Last week, the Cowboys penetrated the red zone just twice and both trips resulted in interceptions.
"You can't get greedy," Banks said. "I've been greedy sometimes and sometimes you get caught up in trying to make too much out of a play. If we can just continue to run the ball like we've been doing and continue to play action and get the ball to our big weapons, they might have their work cut out for them."
Banks connected with wide receiver Andre Johnson four times for 122 yards at Buffalo. The Patriots will no doubt key on Johnson, but the Texans still feel they can get him the ball, especially if running back Domanick Davis can find some daylight.
"Anytime you have a guy that can stretch the field, you're going to see coverages where they back off a little bit," Banks said. "And that allows Domanick to be able to run the ball between the tackles and make some plays there."
The grizzled veteran relying on two rookies to help him engineer a win? Hey, it's happened twice in the past three weeks. And Banks is looking "younger" by the week.
NOTES:The Texans practiced inside the bubble Wednesday, but will head back outside for Thursday's session. Cornerback Aaron Glenn did not practice (groin) but should return tomorrow. Defensive end Gary Walker did not practice but did some running for the first time since incurring his toe injury.