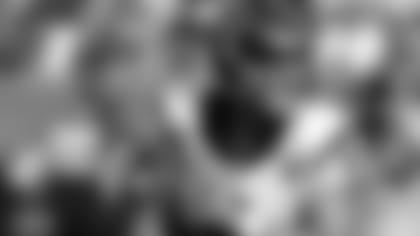 New York Jets coach Rex Ryan certainly seems to think so.
"That's one of the top quarterbacks in football," Ryan said Wednesday on a conference call with Houston media. "He's a difference-maker at that position."
The Texans are 8-0 in Schaub's last eight starts dating back to last season. They have outscored opponents by an average of 32-12 in that stretch, during which Schaub has 12 passing touchdowns, two interceptions, a 68.4 completion percentage and a 107.4 passer rating and has been sacked only six times.
Schaub ranks third in the NFL in passer rating (105.3) this season for the 4-0 Texans. He has thrown seven touchdowns with just one interception. He has completed 66.9 percent of his passes. He has been sacked three times, fewest in the league of any full-time starter.
"The biggest thing when you look at Schaub is his accuracy," said Ryan, a long-time defensive coordinator. "Obviously, he's very comfortable in the system. He's a hard play-action fake guy. He runs a lot of bootlegs. It's hard to get to him. He gives so much ground on the boots. He's a guy that's very comfortable…
"The fact that he's playing on the road normally is a big advantage to you as a team, but he's thrown one interception in the last 178 passes. We need to get him in an off-day, that's for sure."
Schaub, 31, was Pro Bowl-caliber in 2011 before suffering a season-ending Lisfranc injury in Week 10. He led the Texans to a 7-3 record, which placed them atop the AFC. He ranked second in the AFC in passer rating (96.8) and third in the NFL in yards per attempt (8.49).
After watching the Texans' first-ever trip to the playoffs from the sideline, Schaub didn't return to practice this offseason until training camp. He quickly picked up where he had left off, leading the AFC in passer rating in the preseason. He has hardly slowed down since.
"He's playing very good," Texans coach Gary Kubiak said. "He's totally on top of what we're doing. He's getting rid of the ball tremendously. We have (three) sacks, and you've got to give him a ton of credit for that. He's getting rid of the ball. If we get caught in a bad situation protection-wise, he's handling that (and) the no-huddle stuff that we've been doing, very, very well.
"I think he's very driven. He missed that time last year. He wants to be a part of this. He's finding a way not to take so many hits he's taken in the past. He's learned from some of that. He's very focused and off to a good start."
Times have changed quite a bit since 2009, when Schaub led the league in passing attempts (583) and yards (4,770). He's on pace for 3,812 yards this season, 60 less per game than in 2009. He ranks 20th in the NFL in attempts (124).
The Texans know Schaub can win a game by throwing for 400 yards. They just haven't needed him to this season. They've had a 20-point lead in the fourth quarter of all four of their games and have won each one by an average of 17.5 points.
No, Schaub doesn't have gaudy passing numbers. He has remarkably efficient numbers, and he's the leader of a remarkably efficient team. The Texans are tied for the league lead with only two turnovers in four games and rank second with an average time of possession of 35:32.
"We're just built to go in different directions with our offense," Schaub said. "We can run the ball, we can run our play-action game, we can drop back, we can throw it. It just depends on what the defenses are doing to us as far as their coverages and their fronts and what's gonna work. We can pound guys in the inside with the run game or we can throw it around. It's just whatever it calls for, and that's what we're doing.
"We're just trying to executive our offense and play at a high level and be efficient, take care of the ball, keep the defense off the field. So far, it's working pretty well."
And so far, Schaub has been one of the NFL's best quarterbacks in 2012.
Twitter.com/NickScurfield