True, the games don't count. But the Texans' 2004 preseason schedule, announced today, will give their fans two opportunities to relive Houston's two biggest regular-season victories to date.
The preseason slate kicks off with a home date against Dallas on either Aug. 13 or 14. You might remember the last time the Cowboys ventured into Reliant Stadium ([ ](http://play.rbn.com/?url=nfl/nfl/open/2003/nflfilms/demand/s2002/nflcom/w01/cowboystexanshighlight_56k.rm&proto=rtsp)).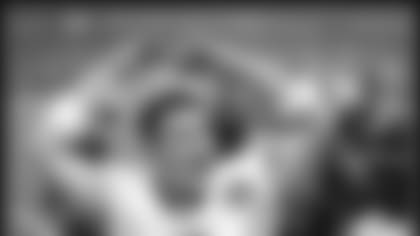 David Carr was fired up after the Cowboys' last visit to Houston.
Of course a lot has changed since the Texans' inaugural contest. Bill Parcells is now roaming the Dallas sidelines and the Cowboys are coming off a surprise playoff berth. There's also a good chance quarterback Drew Henson will see his first preseason action against the team that traded him to Dallas.
Houston's second preseason contest comes at Pittsburgh, where the Texans staged one of the NFL's most bizarre victories on Dec. 8, 2002. The Texans gained just 47 net yards of offense but scored three defensive touchdowns to beat the Steelers 24-6 ([ ](http://play.rbn.com/?url=nfl/nfl/open/2003/nflfilms/demand/s2002/nflcom/w014/texanssteelershighlight_56k.rm&proto=rtsp)). Cornerback Aaron Glenn returned two picks for scores.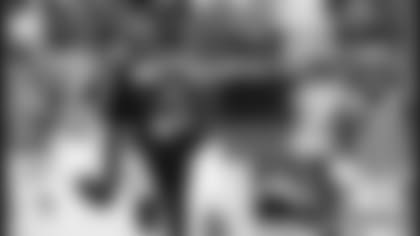 Aaron Glenn returns to the site of one of his greatest games.
The game against the Steelers will be on Aug. 20 or 21. Odds are the weather will be a little warmer than Houston's last visit.
The Texans then hit the road again the following week (Aug. 27 or 28) to face the Broncos. Denver visited Reliant Stadium to open the 2003 preseason so this is the return visit. Houston also plays the Broncos during the 2004 regular season.
The Texans' preseason schedule wraps up with a home date against Tampa Bay on Labor Day weekend. The game will either be on Sept. 2 or 3. This marks the third consecutive season the Bucs and Texans have met during the preseason. Tampa Bay last visited Reliant Stadium at the end of the 2002 preseason.
Dates, times and television participants of all preseason games will be released at a later date. The NFL will release the 2004 regular season schedule in the next month or so.