They are out of the playoff picture, have 14 players on the injured reserve list and haven't scored a touchdown in their past nine quarters of football.
So are the Texans packing it in as they head into the season's final two weeks? Hardly.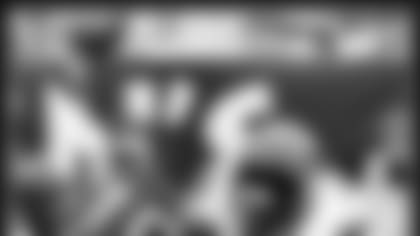 The Texans are looking forward to knocking heads with the Titans and Colts.
"It's never any fun when you lose," head coach Dom Capers said Monday. "But what I've been encouraged about is the attitude of our team, no matter what the situation."
And here is Houston's current situation. The Texans have been outscored 43-3 the past two weeks. Their offense put up just 107 yards against the Buccaneers yesterday. Capers will be the first to admit it hasn't been a pretty first half of December.
But these final two games offer a redemption of sorts. The Texans get to entertain the top two teams in their division. The Colts (11-3) have already clinched a playoff spot and the Titans (10-4) can do just that with a win at Reliant Stadium this week.
"Both of these teams have a lot to play for so we're going to see their best effort," Capers said. "Hopefully, this can be a measuring stick for how much we've improved since the first time we played against them."
Houston was behind the eight ball early in its Oct. 12 loss at Tennessee, falling behind 21-0 before losing 38-17. The Texans actually jumped out to a 14-3 lead at RCA Dome, but the Colts scored the next three touchdowns in a span of four minutes to win 30-21.
But now those two teams have to come to Reliant Stadium. And while the Texans may not have a ticket to the postseason dance, this is an opportunity to play spoiler. It also offers the chance to end the season on a positive note and make a statement to both Indianapolis and Tennessee as the 2003 campaign closes.
That statement? The Texans will be a force to be reckoned with next season.
"Unfortunately, in the past two weeks we've been in a situation where we haven't played our best football," Capers said. "We've fought some injuries and were playing against a couple of teams that I think were playing their best football.
"To me, you always want to play your best at the end of the season. It's certainly what people remember about you. I know our guys have a lot of pride and they don't want to be remembered by how they've played the last couple of weeks."
The Texans might have a better chance at erasing the memory of the Sunshine State debacles than the pundits think. For one, Houston can stake its claim as the league's most oft-injured club this season. But the Texans will enter Wednesday's practice the healthiest they've been in a long time. Eight players will practice on a limited basis but nobody will outright miss practice.
"I can't remember a week where we haven't had somebody out of practice," Capers said. "Hopefully, that will be able to help in terms of getting some continuity. I think it shows in our lack of execution sometimes when guys don't get all the reps in practice."
Quarterback David Carr has missed the last two games with a sprained throwing shoulder but could return against the Titans. Backup Dave Ragone has done an admirable job considering the circumstances, but it's no question the offense has missed Carr the past two weeks.
"Our plan is to have David practice and do a little bit more in practice," Capers said. "Hopefully, he'll respond the way we hope he'll respond. And if that's the case, then he would be our starter.
"Dave's done a good job but when you put a rookie quarterback out there in the 13th, 14th week of the season, it's not going to be like he's starting at the beginning of the year."
The beginning of the year couldn't have been better for Houston. The Texans shocked Miami to win another season opener. And just two weeks ago, the Texans capped a brilliant three-game stretch, one in which they sandwiched wins over Buffalo and Atlanta with an overtime loss to the 11-2 Patriots, who have currently won nine consecutive games.
The lopsided losses to Jacksonville and Tampa Bay have no doubt sucked some of the wind out of the Texans' sails. But at times this season Capers has seen his vision of a winning ball club. He has seen what his team can accomplish, even in the face of tremendous adversity. He just wants to see it again a few more times before the curtain drops on the 2003 season.
"We've seen it in spurts," Capers said. "We just haven't seen it consistently. You have to compete but you also have to do things consistently. I think we've seen it at times during the course of the year but we haven't done it consistently enough where we can say we're ready to compete yet.
"Hopefully, we're making strides. There have been times this season where I thought we were making strides. But you'd have a hard time convincing anybody the last two weeks."
The Texans have two more chances to do some convincing.