Houston and Detroit have about as much in common as Paul Harvey and Howard Stern.
Different time zones, different climates and different industries. Even their football teams play in different conferences, only getting together during election years.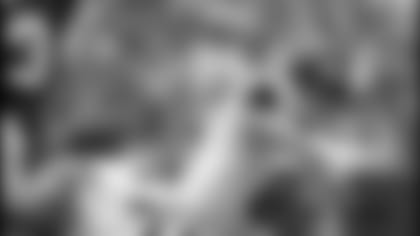 But pigskin pundits will be comparing the Texans and Lions for seasons to come, starting this Sunday when the two teams play at Ford Field. Starting in 2002, when the Texans were an expansion entry and the Lions were coming off a dismal 2-14 season, both teams decided to go similar routes with high draft picks.
That year, Houston used the top overall pick on Fresno State quarterback David Carr. Two picks later, Detroit tabbed Oregon's Joey Harrington as its franchise quarterback. In 2003, the Lions used the second overall selection on Michigan State wide receiver Charles Rogers. Following Detroit on the clock, the Texans snagged Miami wide receiver Andre Johnson.
Carr has started since day one, while Harrington wasn't far behind, moving under center in week three of his rookie campaign. Johnson caught 66 passes as a rookie, while Rogers has been bitten by the injury bug, specifically by a broken clavicle. The injury ended his rookie season after five games and he re-injured it four days ago at Chicago, landing him on injured reserve.
All four have endured the usual growing pains that accompany players who are expected to contribute immediately to young teams. But most would agree all four have a bright future in this league.
"I'm encouraged with the direction Joey's headed," Lions head coach Steve Mariucci said. "He's in a similar situation as David Carr; early draft picks, third-year guys, playing on developing teams, getting better and better as time goes on, they've earned their stripes and that sort of thing."
Texans head coach Dom Capers remembers the 2002 draft, when Houston's brain trust decided they wanted to start with a quarterback and Carr was the ultimate choice. Harrington was also on the radar, as was defensive end Julius Peppers, who ended up going to Carolina.
"We liked everything about David," Capers said. "We certainly spent an awful lot of time with him because we didn't have a team to coach that year, so I would look at an awful lot of tapes, spent a lot of time with him and his family. As all of those decisions are when you're talking about the first player picked in the draft, they are difficult decisions.
"The other two guys that you mentioned were certainly worthy of the consideration. We just had a gut feeling on David and decided to go with him. We certainly held Joey Harrington in very high regard – same thing with Julius Peppers. We just felt that the right thing to do was to pick a quarterback to start your franchise with. David happened to be that guy."
Carr and Harrington were both west coast quarterbacks who probably would have garnered more attention at bigger schools. But both put up huge numbers and both showed tremendous leadership qualities at the college level.
Some of that can be traced to current Cal head coach Jeff Tedford, who coached a young Carr at Fresno before becoming offensive coordinator at Oregon.
"We were coached by the same guy for a couple of years," Carr said. "That's the first thing that comes to mind because I still spend some time with him and obviously Joey does."
Tedford coached Carr as a redshirt freshman and then matriculated to Eugene, where he shaped a high-powered offense around Harrington.
"He is without a doubt one of the biggest reasons why I'm in the position I am right now," Harrington said. "He is an incredible coach. I can't say enough good things about him. He's done a great job, not only with David and me but with every other player he has coached. You look at his track record; he was (Trent) Dilfer's coach, he was David's coach, he was my coach, he was Kyle Boller's coach, he had A.J. Feeley when he was at Oregon. The number of quarterbacks he has produced is really uncanny."
Carr blossomed as a senior, leading the nation in passing yards (4,308) and touchdown tosses (42). That season rocketed him to the top of the draft class, but he took his lumps as a rookie, getting sacked a league-record 76 times behind a makeshift offensive line. Nevertheless, Carr unveiled a gritty layer that he never really had to show at Fresno.
"He did a great job of handling the challenges and the ups and downs of that first year," Capers said. "I thought he showed incredible toughness."
Meanwhile, Harrington rarely hit the turf, getting sacked just eight times in 12 starts. He threw 12 touchdown passes but completed just 50.1 percent of his passes. In 2003, Harrington's completion percentage rose to 55.8 percent and he threw 17 scoring strikes. But his 22 interceptions tied for the league lead and 13 of them came in division games.
Mariucci, who has a knack for developing quarterbacks himself, remains undeterred.
"I've been encouraged with Joey's maturity and the leadership qualities are starting to show," he said. "His understanding of the direction we're going and what defenses are trying to do is expanding. He is going through the necessary learning curve and ups and downs of a developing quarterback. I think he's right on schedule."
Carr improved his numbers in his second season but also missed four games with ankle and shoulder injuries. He had an outstanding preseason and, with an improved supporting cast around him, appears ready to break through in 2004, just like Harrington.
"I think David is playing his best football," Capers said. "I thought he played very well through the preseason. Other than the two interceptions, I thought that he threw the ball well and directed the team very well on Sunday. I look at Joey; he's made an awful lot of strides. I have not studied him as much as I have David and been around him, but he looks to me like he's comfortable managing the team and he's a talented guy and he's capable of making plays. He catches your attention when you're getting ready to play the Lions."
Carr has developed a rapport with Johnson, whose size and speed pose a problem for any defensive coordinator on Houston's docket.
Harrington hasn't had that luxury with Rogers, but he's confident his receiver will bounce back. And Harrington has a pretty strong receiving corps to work with, led by this year's first-round pick, Roy Williams.
"You feel terrible for him," Harrington said. "I can't say enough good things about how hard Charles worked to get back this year and to see this happen again on his first pass this year, you feel terrible for the guy. I'm not only very happy to have Roy but with Tai (Streets) coming in, you know what, we have the luxury of having a pretty deep receiving corps this year."
This week's game is just another step in the progression of both teams' young offensive weapons, especially the quarterbacks. Carr and Harrington don't know each other that well, but their career paths have forced them to pay at least some attention to each other.
"It is kind of impressive that we are both from the west coast and came out one and three," Carr said. "That's pretty good. We're both still with a young team trying to go do some good things. It's kind of exciting. It is going to be fun to get out there and compete against a guy that likes to win."
Two quarterbacks, two wide receivers, two scoring tandems. Time will tell which duo will produce more points. But for now, it's fun to debate.