Brett Favre is feeling a little older these days.

It's not just the patches of gray in his hair or the soreness in his muscles and joints. It's hearing the quarterbacks on the opposite sidelines talk about how much they tried to play like Favre -- when they were kids.

"I tried to emulate some of his stuff on the playground," quarterback David Carr said.

On the playground? Favre just shakes his head.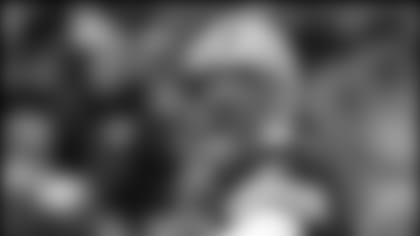 "It is flattering, but you know it also kind of lets you know you're getting older too," Favre said this week. "People every year say, 'Hey, I had your poster on the wall in third grade.'"

For the record, Green Bay's quarterback isn't expecting his AARP card to arrive anytime soon. The 14-year veteran is having yet another Favre-like season. Just last week he threw for four touchdowns in a win over Minnesota. Favre has thrown 18 touchdown passes against just nine interceptions this season and has helped the Packers win four consecutive game heading into Sunday's game at Houston.


"He's obviously the most talented guy to have ever thrown a football," Carr said. "He's probably the only guy I would pay to watch right now."


And, as Favre will tell you, it hasn't been easy. Starting a league-record 217 consecutive games (counting playoffs) will take the inevitable toll on his body. But that pales in comparison to what's happened off the field the past year. His father died of a heart attack last December. His brother-in-law was killed in an ATV wreck earlier this season. And his wife, Deanna, was recently diagnosed with breast cancer.

Yet Favre keeps fighting. It's what he does best. And if you can't play, you can't fight.


"I would have probably said this years ago, but I kind of lump my desire to win and my reliability as one," Favre said. "You can't be a winner if you don't play all the time. You've got to be counted on. Just to give you an example, when I was in grade school I went 10 out of 12 years without missing a day of school. My parents were both teachers but my two brothers and my sisters took their days of missing. I never wanted to miss for whatever reason.

"I can't think of any game that I ever set out of – my car wreck I had to sit out my first game (at Southern Miss) – but four weeks after surgery I ended up playing against Alabama. Call it crazy, dumb, whatever, but I was just determined to play. That just shows through my career in Green Bay. The fact that I will play no matter what and the fact I'll do whatever it takes to win. The arm strength and all that stuff, you can throw that aside, because there are so many guys that have those intangibles. I think what sets some guys apart from others is the fact that you can count on them and you can also count on them in any situation, anything you ask that guy to do, he's willing to do no questions asked."

Those would have played against him would agree.

"Everyone knows the history of Brett Favre," defensive end Gary Walker said. "If you mess up, he'll make you pay."

Guard Todd Washington played Favre twice a season when he was with the Bucs.

"He always seems to make the critical throws we he has to," Washington said. "He goes out there and performs every single snap. He loves the game. He's running around like he's a teenager. Just when you think you have him on the ropes, he'll find a way to fight back."

Quarterback is unlike any position in sports in that leadership is the most essential element to playing the position. Favre is Exhibit A. And while we're not about to compare Carr to a future first-ballot Hall of Famer, the Texans' third-year quarterback is starting to display some of the traits that make successful NFL signal-callers.

Carr gutted through a rookie season in which he was sacked a league-record 76 times. He battled through ankle and shoulder injuries in his second season. Through the first eight weeks of the season, Carr had thrown for 2,162 yards with nine touchdowns and just five interceptions.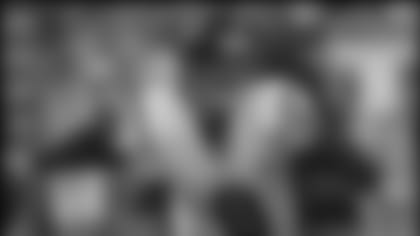 Then came Indianapolis. Carr threw three interceptions and was sacked five times in a 49-14 loss. In 14 seasons, Favre has been through plenty of those afternoons where nothing seemed to go right. And he always seemed to bounce back. That's why this game is so key for Carr and his offense. The Texans want to assert themselves.

"You never want to go into a game and let the defense control the tempo," Carr said. "An offense is supposed to be aggressive. We're supposed to be on the attack."

Sounds like Favre talking. And for the record, while Carr and other quarterbacks may have had him on their wall, Favre doesn't predate posters. He had some of his wall, too.

"Man, I had everybody's posters, believe it or not," Favre said. "Me and my two brothers shared a room all the way through high school. Our whole bedroom, ceilings and walls, was completely covered. You couldn't see any spot on the walls. From (Jim) McMahon to (Joe) Montana, to (Dan) Mario, (John) Elway, Archie Manning, Terry Bradshaw, Roger Staubach, on and on, Jim Kelly, Walter Payton. We had them all."

Odds are Favre is still on plenty of walls in bedrooms across the country. But if Carr can engineer a prime-time win over the Packers, maybe he can snag some of that precious real estate as well.