Last week the Texans were staring a 0-3 start square in the eye.
But an interception here, a touchdown pass there and, lo and behold, there was Kris Brown lining up a 49-yard field goal to win the game at Kansas City. Brown nailed it and suddenly Houston's 2004 season had found new life.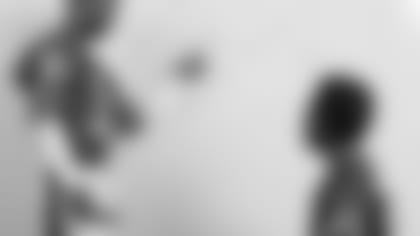 In a nutshell, that's the roller-coaster existence of an NFL team these days. The Texans could have very easily lost to the Chiefs, just as they could have very easily defeated San Diego or Detroit to open the season.
The difference at Kansas City was the Texans making huge plays at opportune moments. Free safety Marcus Coleman returned an interception 102 yards for a touchdown. Wide receiver Andre Johnson made a gravity-defying catch. Linebacker Antwan Peek harassed Chiefs quarterback Trent Green. Quarterback David Carr set up Brown with a 35-yard completion to wide receiver Derick Armstrong. And, of course, Brown calmly drilled a high-pressure kick in arguably the league's loudest venue.
"I thought that game was a great example of the stamina and persistence it takes to win on the road," head coach Dom Capers said.
Now the Texans return home to Reliant Stadium, rejuvenated but also realistic. They know they have yet to string together consecutive wins in their brief existence. This will be the 10th try at a Texans two-step. And Houston is facing an opponent that is also coming off an emotional victory. The Texans are back in the chase but they'll need another all-around effort to stay there.
The Houston Texans (1-2) host the Oakland Raiders (2-1) today at Reliant Stadium. This is the first meeting between the two teams. It will mark the third time in the first four weeks of the season that the Texans have faced an AFC West foe. The Texans are coming off the aforementioned 24-21 win at Kansas City. The Raiders defeated the Buccaneers 30-20 last week in a contest that featured more relationship subplots than an episode of "Melrose Place." Oakland jumped out to a 30-6 lead on its former head coach and coasted from there, notching its second consecutive victory.

To read the rest of this story, pick up your copy of Texans Gameday Magazine on Sunday at Reliant Stadium, either on the concourse levels or at the Go Texan Store.
* *