The Texans weren't exactly sure who would carry their rushing load heading into last season.
Houston had signed free agent Stacey Mack to battle incumbent starter Jonathan Wells. Mack was essentially a short-yardage back looking to get his shot as an every-down player. Wells was looking to improve on his 500-yard performance as a rookie.
Oh, and the Texans drafted Domanick Davis in the fourth round out of LSU. But he was just going to be a third-down back and kick returner...right?
What a difference a year makes.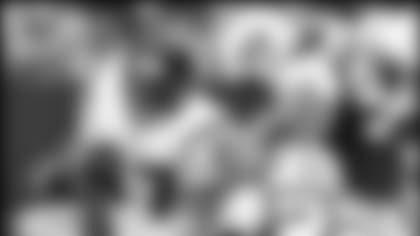 It turns out that Davis was the back the Texans were looking for all along -- he just needed an opportunity. Despite missing most of the preseason with a hand injury, Davis impressed the coaching staff enough that he earned the starting job in Week 6 against the Jets. The rest is history: Rookie of the Year history.
"Domanick kind of came out of nowhere, especially considering he suffered that hand injury in training camp," head coach Dom Capers said. "He missed a large majority of camp but worked his way into the starting lineup and became Rookie of the Year.
"So we feel the running back position is much more solidified going into our third year."
Davis eventually rushed for 1,031 yards and eight touchdowns, setting 16 club records and delighting fantasy football players who picked him up in October. He also caught 47 passes for 351 yards. Amazingly, from that Jets game on, Davis accounted for 44 percent of Houston's offense.
"He is very decisive in making the right decision on finding open rushing lanes," running backs coach Chick Harris said. "He explodes into the hole. He can stop and start. His quickness coupled with his speed just makes him so effective. And once he's out in the secondary, he's even more effective."
Davis earned NFL Rookie of the Week honors five times and ultimately won Rookie of the Year honors a few days before Super Bowl XXXVIII in Houston. Now he enters training camp as the unquestioned starter for the first time since his teenage days. Remember, Davis spent most of his days in Baton Rouge as a backup to current Jaguars running back LaBrandon Toefield.
"You have to go all the way back to high school," Davis said. "So you have to imagine it's a great feeling to be the number one guy. In this kind of position you have to be a leader. But I try to lead by example every day and guys feed off of that.
"To me it's the same thing whether you're the number one back, or the number two or three back. You still have to come in every day with the mindset that you'll do whatever you need to do to make the team better."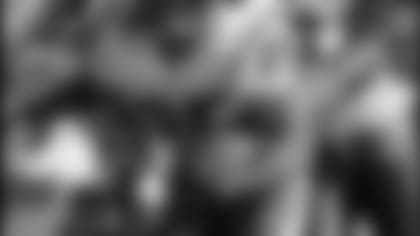 The Texans also return Tony Hollings, whose "redshirt" season turned out to be a lot more productive than the club initially thought when it selected the former Georgia Tech standout in the supplemental draft. Hollings missed the 2003 off-season program and was coming off an ACL injury, but still saw action in 14 games with one start.
"We didn't really know how his knee was going to respond but Tony was able to stay on the field the whole year," Capers said. "He's much healthier now, you can tell he's a year removed from the ACL surgery. We think that Tony can be a real contributor this season."
Wells returns to battle for the third spot with rookie Jason Anderson, an intriguing prospect who got some NFL Europe work in Amsterdam over the spring. The coaching staff is high on Wells' efforts on special teams.
Fullback Jarrod Baxter injured his foot during a preseason game at Dallas, causing him to miss the entire 2003 campaign. Moran Norris took advantage of the opportunity, playing in all 16 games and serving as a valuable blocker for Davis. Norris enters training camp as the starter.
"Jarrod's injury thrust Moran into the starting fullback role and I think he was one of our more improved players throughout the course of the year," Capers said. "Moran gives great effort and he possesses a lot of toughness."
The Texans have revamped their line personnel and scheme in hopes of getting more production out of the running game. Davis liked what he saw in mini-camp.
"The zone blocking gives me more lanes," Davis said. "I don't have to find that one particular hole. Wherever I see space, I can just hit it.
"Looking at the line we have now, those boys are really doing a good job. I see how hard those guys work and it makes me want to work even harder."
That's good news for Texans fans.
FUN FACT:Davis was the eighth running back selected in the 2003 draft when the Texans grabbed him early in the fourth round. Davis rushed for 1,031 yards as a rookie, while the seven backs drafted ahead of him combined for 648 yards, an average of 92.5 yards per back.