NEW ORLEANS-- Through two games this season, it's evident that David Carr has the opportunity to become an elite quarterback in this league.
It's also apparent that he desperately needs a running game to complement his skills.
Last Sunday, the Texans rushed for 127 yards, yielded no sacks, chewed up more than 33 minutes of clock time and won a tight game at Miami.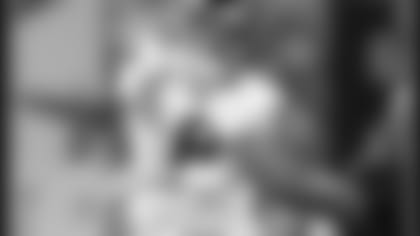 Today the Texans could only muster 72 yards on the ground, seven of those coming on a fake punt in the first quarter. The domino effect resulted in a 31-10 loss to the Saints at the Superdome.
"When we get in situations where it's an obvious pass and we're a one-dimensional team, we aren't quite where we need to be at this time," head coach Dom Capers said. "I think what we saw today in the second half probably resembled more of what we saw a year ago when we could not run the football when we had a lot of third and long situations."
Saints head coach Jim Haslett said after the game that his team's goal was to stop the Texans on the ground and thus create long third down conversions. Houston converted just 4 of 16 third downs -- six of those were 10 yards or more to go, with another two needing nine yards to move the chains.
The result? Carr was forced into obvious passing situations and the Saints teed off, sacking him five times for 30 yards. Carr had to escape the pocket frequently and threw two interceptions while trying to play catch-up, one of which was returned by Saints linebacker Derrick Rodgers to put the proverbial nail in the coffin.
"That was the most physical game I've played since I've been here," Carr said after the game.
The Texans actually ran 65 offensive snaps, nine more than New Orleans. But the Saints had a 4 1/2-minute advantage in time of possession because too many of the Texans' plays were incomplete passes. The Saints were also able to churn out yards on the ground in the second half. Saints running back Deuce McAllister finished with 96 yards, 47 of those in the final quarter when New Orleans was trying to protect its lead.
In fairness, Houston played 2 ½ quarters without nose tackle Seth Payne, who left with a left knee injury and is probably gone for the season.
Meanwhile, on offense, running back Stacey Mack found little daylight in the dome, averaging just 2.4 yards on his 13 carries. He actually improved his average in the second half after rushing for 10 yards on eight carries in the first half.
Rookie Domanick Davis fared a little better, but his average was still less than four yards. And while Davis is a nice change-of-pace back, the Texans' ground game hinges on Mack moving the chains. He did just that against Miami, gaining 89 hard-earned yards against a formidable defensive front.
It's no secret that the Texans have upgraded at wide receiver. Houston's trio of Corey Bradford, Jabar Gaffney and Andre Johnson can stretch defenses and make any team's corner sweat.
         But
         any quarterback will tell you a consistent running game is his best
         friend. It wears down the defense and sets up play action.

"After a decent first drive, we faced third and long it seemed like all game," Carr said. "Our team right now, we can't just drop back and be in this situation all game long."
         The
         Texans return to the cozy confines of Reliant Stadium next week
         against undefeated Kansas City. If
         the Texans want to keep the Chiefs' potent offense on the
         sidelines, rushing early and often will have to be their chief
         offensive goal.