The Falcons pretty much knew what was coming in the second half of last week's game against the Texans.
After quarterback Tony Banks left the game at the end of the first half with a broken right hand, David Carr trotted onto the field with a sprained right shoulder. It was pretty obvious Carr couldn't throw the ball downfield.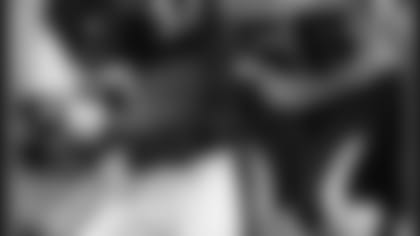 Davis rushed for 101 yards against Atlanta.
Indeed, Carr attempted only five passes and the Texans ran the ball 23 times in the second half. But despite its one-dimensional attack, Houston rallied to score two touchdowns -- both by running back Domanick Davis -- in a 17-13 win.
It was an inspired effort by the offense. But a similar approach likely won't work this week in Jacksonville. Only two teams have a more porous run defense than the Falcons. And only one team (Tennessee) yields fewer rushing yards than the Jaguars.
"Their front four is very physical," head coach Dom Capers said. "They've got three No. 1 draft picks out of the front four guys."
The Texans rushed for 110 yards in their 24-20 win over the Jaguars Sept. 28. But since then only the Titans have exceeded that total against an improving front.
Opponents are averaging a paltry 85.4 rushing yards per game against the Jaguars, who have allowed just 33 points over their last three games. Veteran defensive ends Tony Brackens and Hugh Douglas have struggled, which is why the Jaguars have just 17 sacks. But it's the push up the middle that has keyed Jacksonville's latest surge. Defensive tackle Marcus Stroud is having a monster season, leading the line with 82 tackles and 4 1/2 sacks. Fellow first-round tackle John Henderson has 52 tackles, 12 of them for loss.
Jacksonville's coverage units haven't helped its defense. Jaguars opponents have the best average starting field position in the league. But once the defense lines up on first down, it helps its own cause. The Jaguars are yielding just 4.4 yards on first down, which ranks second in the NFL. And much of that is due to a run defense that knocks opposing backs backwards. Jacksonville also ranks second in the league by causing 58 runs for negative yardage, 17 above the league average.
The Jaguars are aggressive, but not undisciplined, on defense. Jacksonville has yielded the third-fewest amount of plays over 10 yards and the ninth-fewest amount of plays over 20 yards.
"They're playing aggressive and they haven't given up many big plays," Capers said. "They played with a lot of energy against the Bucs."
In Jacksonville's 17-10 win over Tampa Bay, the Jaguars held the Bucs to just 77 yards on the ground. That forced Tampa Bay into unfavorable third-down situations, of which the Bucs converted just 2 of 12 (17 percent). Capers doesn't want to see that happen to his offense Sunday.
"I think we have to keep it to where we do run the football and have some play-action pass and keep our third-down situations much more manageable," he said.
Capers said Friday that both Carr (shoulder) and Davis (ankle) would be game-time decisions. Rookie Dave Ragone has been taking the snaps all week in practice. He'll have to be ready just in case.
"We're very confident in Dave's ability to go in and execute the game plan," Capers said.
If Davis can't go, fellow rookie Tony Hollings would get the start in Jacksonville. Hollings is faster than Davis, though he doesn't possess Davis' quickness and field vision. Hollings' best runs in limited action have come to the outside. Considering Jacksonville's strength in the interior, that might be the best avenue to positive yardage Sunday.
Regardless of who lines up behind center, and who lines up behind him in the backfield, the Texans know running the ball is the best way to beat the Jaguars. Easier said than done, but Houston hasn't already bested last season's win total by doing things the easy way.
"I think you always have to be able to run the ball," Capers said. "For us, we don't ever want to turn the game into a one-dimensional game because that's not our strength right now.
         "It's
         a manner of managing the game. We've had great examples of what it
         takes for us to win and we've had great examples of what we can't
         do."