ORCHARD PARK, N.Y.– Yes, even though Kevin Gilbride was calling the plays, we know that the Texans weren't exactly facing the Run 'N Shoot Sunday. The Bills, after all, entered today's game Houston without a touchdown in their last two games.
But who among us expected that streak to hit three games?
The Texans defeated Buffalo 12-10 at Ralph Wilson Stadium in a game only their mothers, fans and Dom Capers could love. It was a good old-fashioned slugfest that featured more safeties than touchdowns. And the primary reason the Texans came out on top was the play of their much-maligned defense.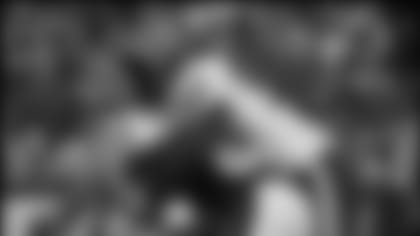 The surface statistics don't indicate much improvement. Buffalo racked up 335 yards and Bills running back Travis Henry gobbled up 149 yards, averaging 6.5 yards per carry. The Bills won the time of possession battle and their quarterback didn't throw an interception.
Yet Houston's defense kept coming up with key plays. Buffalo marched into Texans territory on seven of its 11 drives and still couldn't crack the end zone. Two drives ended in field goals. Two drives ended with missed field goals. And the final drive ended with the Bills' one crucial turnover.
As the two-minute warning hit, the Bills, trailing 12-8, had covered 38 yards in just four plays. Buffalo had 1 st and 10 at the Texans 31. The natives were restless, but a victorious escape was still well within reach. But as Bills quarterback Drew Bledsoe dropped back, linebacker Jamie Sharper nailed him from his blind side, forcing a fumble that fellow linebacker Shantee Orr recovered to essentially salt Houston's fourth win away.
The final play showcased the wide range of mixing and matching defensive coordinator Vic Fangio has been forced to do in 2003. Sharper hasn't missed a start since he arrived in Houston and leads the team in tackles. He finished with 12 tackles, one sack and two forced fumbles against the Bills, the most recent in a string of outstanding performances.
Then on the finishing end of the play you have Orr, who was called up from the practice squad for this game. And all he does in his NFL debut is sack a four-time Pro Bowler and pounce on a crucial fumble.
There were veteran outside linebackers Charlie Clemons and Kailee Wong each posting a sack, giving Houston four after three consecutive games without a sack. But there was also little-known defensive tackle Junior Ioane getting consistent push up the middle and turning in his best performance.
There was strong safety Eric Brown knocking back Henry on 3 rd and goal from the one-yard line, forcing the Bills to kick a field goal in the third quarter. But there was also cornerback Demarcus Faggins breaking up two passes in his 2003 debut, both on third down, which helped lead to Buffalo's miserable third down conversion rate (3 of 13).
Has any defense in the league had to shuttle this many players in and out of the lineup through 10 games? The Texans have already grown accustomed to playing without Seth Payne and Gary Walker, their two best defensive linemen. But in Buffalo, Fangio also didn't have cornerback Marcus Coleman and Antwan Peek available due to a team-imposed suspension (though Peek would have missed the game anyway with a foot injury). Then defensive end Corey Sears went down with an ankle injury in the first half.
After scoring just 11 points in their previous two games, the Bills probably figured playing the Texans was just what they needed to get healthy again. Instead, they came against an inspired group for which they had no ultimate answers. Fangio's troops, be they grizzled vets or wide-eyed pups, kept battling and battling.
         That's the
         mark of this team. That's why, with six games remaining, these
         Texans have already matched the win total of their 2002
         predecessors. And that's why none of the six teams remaining on
         Houston's docket is looking forward to playing this bunch.