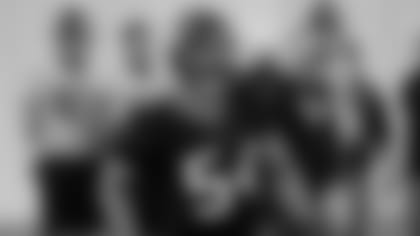 Texans director of college scouting Mike Maccagnan reviewed the 2013 NFL Draft with Texans insider Nick Scurfield. In this "Scout's Take" series, we'll share his thoughts on each of the Texans' nine draft picks, from tight end Ryan Griffin in the sixth round to wide receiver DeAndre Hopkins in the first.
OLB Trevardo Williams – (4th round, 124th overall)
6-1, 241 – Connecticut – Bridgeport Central (Conn.) H.S.
Texans director of college scouting Mike Maccagnan
"Trevardo is another defensive end in college, playing in a 4-3 defense, we are projecting or going to convert to an outside linebacker. Whereas Sam (Montgomery) is obviously a bigger-statured guy and a more powerful player, Trevardo is actually shorter in terms of height; he's about 6-1 and a half, about 245 pounds, but Trevardo is more of a speed type athlete. Now, he does have fine strength and ability from that standpoint. At the Combine, he obviously he displayed his speed. When you watch him on the college tape, he is a very, very fast, explosive player with very good initial quickness. When we evaluated him, we liked him from a pass rush ability standpoint. We definitely thought he had the skill set to make the transition from
defensive end to outside linebacker. I think he had 12.5-plus sacks each year the last two years in that conference, so he's been very productive as a pass rusher in college in the Big East level of competition. When you watch him versus the run, he is a strong player for his size, (has) the ability to hold the point of attack, control a tight end, shows good ability and real good speed and range to kind of run and chase and make plays versus the outside run or down the line of scrimmage versus the inside run. It was a guy that we liked where we got him and we thought it was a good value-type pick in that spot in the draft with the ability to potentially be a good player for us in our scheme. We really felt he was a really, really good athlete with the physical tools to be able to play that position."
Twitter.com/NickScurfield