Every game counts in the NFL. But it's the divisional games that many times are the most hard-fought. Many come down to the wire as coaching staffs and players are more familiar and better prepared for their opponent.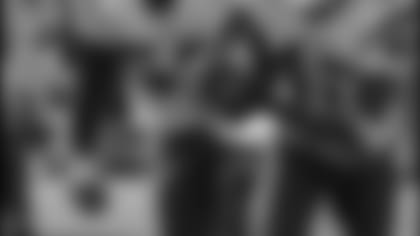 Marcus Coleman, Dunta Robinson, Aaron Glenn and Kailee Wong recorded interceptions against the Titans earlier this season.
In the Texans-Titans series, there doesn't seem to be a consistent pattern of play from game one to game two each season. On October 17, Houston defeated Tennessee for the first time in five meetings. This weekend, the Texans are in front of a home crowd and only hope to elaborate on those efforts.
But that hasn't always been the case these past few seasons. In 2002, the Texans played the Titans for the first time ever, in the Coliseum, and lost a close bout 17-10. When the two faced off again for the second time in 2002 in Houston, the Texans weren't able to score a touchdown and dropped to the Titans 13-3.
In year two, Houston had better luck the second time around, and in front of Reliant Stadium fans.
In early October of 2003, the team traveled to Nashville and lost 38-17 as Titans quarterback Steve McNair threw touchdown passes of 32, 46 and 50 yards. Andre Dyson added a 51-yard interception return for a score and the Texans were deep in a hole.

But head coach Dom Capers got his troops to rally back in December. The defense stepped up and eliminated the big plays while free safety Marlon McCree picked off a McNair pass and raced 95 yards into the end zone. On offense, the Texans were able to score on a passing play (Corey Bradford) and on a Domanick Davis run.

Now in the present, the Texans are prepared for a gritty round-two fight as Tennessee looks to even the 2004 series after coming off of a divisional win against Jacksonville last weekend.
"All I know is that it's going to be a dog fight," defensive end Gary Walker said this week. "Any time you play a divisional game, you're going to have a physical football game and that's what we're getting ready for.
"We came away with a win up there but that's not going to do anything for us Sunday. This Sunday's a new game so we just have to go out there and execute."
The Texans know that a lot can change between the two team's first and second Sunday dates. For starters, neither team will be able to use the exact same game plan that was drawn up in October. Both Texans and Titans coaching staffs spend numerous hours in the offseason breaking down each division opponents, so every AFC South team is very familiar with each other's idiosyncrasies.
Playing the Titans in real game situations is even more valuable in drawing up an effective game plan.
"You obviously get to know each other very well when you're in the same division," Capers said. "When you've already played a team, you go back and look at what you did well and what you didn't do well and hope you learn from both of those things."
Taking the good from the first meeting in 2004 means the Texans will look to win the turnover battle once again. The Texans defense picked off McNair four times and was able to hold the Titans on 10 of 14 third and fourth down attempts.
Also part of the winning formula was a productive Houston offense that was able to out gain the Titans 345 yards to 305.
But Capers knows that the Tennessee will be ready to strike on any repeated trends they may see this weekend – and vice versa.
"I think the second time you play a team, teams always play each other a little bit differently but you don't abandon the whole scheme," Capers said. "Tennessee knows us a lot better and we know them a lot better so I'm sure that they're going to have a different style against us than the first game and we can't sit and do the same things that we did against them the first game."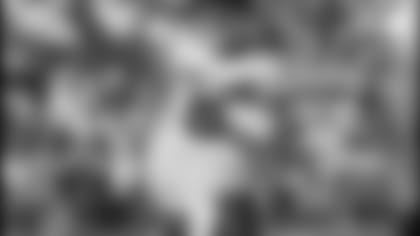 David Carr looks to march the Texans offense on multiple scoring drives this Sunday.
While the Texans look to continue bolstering the running attack, the Titans are looking for dependability from their reserves after being bitten by the injury bug. The secondary has taken a big hit with the losses of Lance Schulters, Tank Williams and Andre Woolfolk while running back Chris Brown is still listed as questionable for Sunday's game.
McNair returned to action last week after missing two games and he threw for 209 yards, a touchdown and two interceptions against the Jaguars. The Texans aren't sure what kind of performance they'll see from McNair, but as always, the defense expects him to be a tough competitor.
McNair is also ready for the rematch and hopes to improve upon his own personal performance this time around.
"We looked at the game and learned from our mistakes the first game we played them and that's it," McNair said. "It's not like we're making it more than what it is. They've got a great team. They've got some great guys out there playing hard and playing well."
The Texans defense hopes to flourish from a strong showing against Green Bay, where the unit only allowed one offensive touchdown from a potent Packers offense.
But the Texans know that a collaborative effort on all sides of the ball, and maybe a few new tricks, as essential in sweeping the Titans series for the first time in club history.