Last season, tight end Billy Miller caught 70 percent of his passes in the second half of the season. If his performance today against the Panthers is any indication, Miller is warming up for a 2003 encore.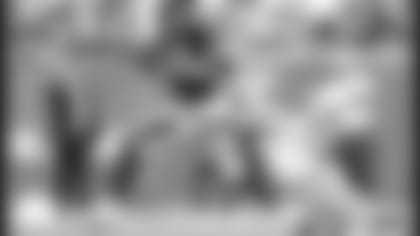 Miller hauled in four passes for 58 yards in Houston's 14-10 win over Carolina, including an acrobatic 20-yard touchdown pass from quarterback Tony Banks that proved to be the game-winner.
"It's tough to say but this is definitely a game I made an impact in," Miller said. "I had the opportunity to go out and make plays, especially in the second half."
The same could be said for Miller, who is starting to break out much as he did last season. After catching just nine passes in the season's first four games, Miller had 15 receptions over the season's second quarter. Two of those have gone for touchdowns and both of those were highlight-reel grabs that very few tight ends can make.
Last week at Indianapolis, Miller walked a tightrope in the back of the end zone to haul in a one-yard loft from quarterback David Carr. But today's one-handed scoring snag, in stride no less, might have been Miller's most impressive catch as a Texan.
"Tony had a little bit of pressure on him, and I looked late," Miller said. "It kind of stuck in my hand."
The touchdown gave the Texans their only lead of the game. And later in the quarter, Miller and Banks combined for another crucial play. On 3rd and 12 from the Texans 34 with 2:46 remaining, Banks lined up in the shotgun. He corralled an errant snap and found Miller for a 21-yard gain that enabled Houston to gobble up virtually all of the remaining clock time.
"When I picked the ball up, there were no free runners and the line was protecting," Banks said. "That was one of my favorite plays."
Whether it's Banks or Carr in the pocket, Miller is once again becoming a preferable target. While Jabari Holloway is considered the Texans' better blocking tight end, Miller's strength is his receiving ability. He consistently creates mismatches for opposing linebackers. Considering the pressure the Panthers' front four was putting on Banks, Miller was a welcome option in the flat.
Miller led the team in receptions last season, but that was an entirely different offense. The Texans drafted wide receiver Andre Johnson in the first round and are looking downfield more. The proof is in the numbers. Houston ranked 11th in the NFL in total offense entering today's game after finishing 2002 dead last in the league.
But while Miller might not be the primary receiving threat, he can still do some damage -- and help his team win.
"We made the most of our opportunities," Miller said. "We came out with a different focus in the second half."
         He was
         referring to the game. But that statement could apply to the second
         half of the season as well. Expect Miller's numbers to continue to
         rise through December.