EDITOR'S NOTE:This is the first of a three-part series dissecting the Texans' take on the Super Bowl XXXVIII matchup between Carolina and New England. This article looks back at Houston's 14-10 win over the Panthers. We'll later focus on the Texans' overtime loss to the Patriots and how the Texans think the Super Bowl will play out.
Quarterback Tony Banks played in six games this past season but in only two of those games did he start and finish under center.
Those two games? Houston's 14-10 win over Carolina and its 23-20 overtime loss to New England. Both games were at Reliant Stadium and both teams return to that venue Feb. 1 for Super Bowl XXXVIII.
All four teams in the AFC South played the Patriots and Panthers in 2003 so there are plenty of experienced minds to pick regarding this Super Bowl matchup. But Banks and the rest of the Texans might provide the freshest analysis you'll read over the next 13 days.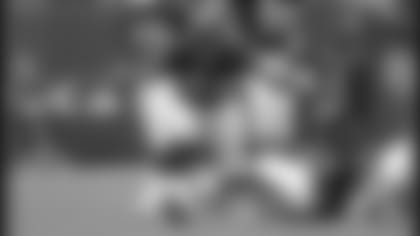 Eric Brown and the Texans stymied the Panthers in Houston.
Why? The Texans played both teams in November, later in the season than their division counterparts. The Texans were dominated in the first half in both games but found themselves trailing by only a touchdown. Houston made the necessary adjustments at halftime, resulting in a shocking win over the Panthers and a near-miss against the NFL's top team.
On Nov. 2, the Texans were reeling, having lost three consecutive games coming off their bye week. The Panthers, meanwhile, had a 6-1 record, best in the NFC.
Carolina took the opening kickoff and marched methodically down the field, handing the ball off to running back Stephen Davis eight times. At the Texans 24, Panthers quarterback Jake Delhomme found wide receiver Steve Smith a step behind linebacker Jamie Sharper in the end zone. Carolina led 7-0 and things looked bleak for Houston, especially when the Texans went three-and-out on their opening possession.
The Panthers continued to pound the ball, but cornerback Aaron Glenn thwarted one drive with an interception in the end zone. The numbers at halftime were ugly -- Davis already had 107 yards and Carolina had outgained Houston 209 to 61. But the Texans were still only down 7-0.
"Our defense kept us in the game with a turnover in the first half," Banks said. "We were fortunate to be down only 7-0 with having the ball for 10 minutes in the first half.
"In the second half it was the complete opposite. We weren't converting third downs in the first half, the second half we converted on seven straight. Anytime you can convert and keep drives alive, you have a better chance of getting points."
The Texans took the ball at the outset of the second half and produced what would become the longest drive in the team's brief history -- 13 plays, 73 yards, gobbling up 8:13. Running back Stacey Mack capped it with a one-yard touchdown plunge.
Carolina countered with a field goal to retake the lead at 10-7, but Houston's offense suddenly had confidence. The Texans again answered with a long touchdown march. Banks kept the drive alive when he hooked up with wide receiver Andre Johnson for a 35-yard gain on 3rd and 18 from the Texans 42. Five plays later, Banks found tight end Billy Miller open down the middle for a 20-yard touchdown.
"They were playing a lot of zone against us," Banks said. "They felt like their front seven could stop our run. In the second half, we started to convert third downs so they started to blitz, but we were able to make big plays against their blitzes.
"Our receivers are more physical than teams they normally play. The press they had against Philly, I don't think would have worked against us. But they game plan well against different teams."
Houston's third -- and final -- drive of the second half was its most impressive, even if it didn't result in any points. Banks broke the huddle with 5:55 left and the drive consumed 5:54. He converted two critical third downs, one to wide receiver Jabar Gaffney on 3rd and 6 at the Texans 24 and another to Miller on 3rd and 12 from the Texans 34.
Not only was Banks more effective in the second half, but the Texans rushed for 81 yards in the second stanza, grinding clock and keeping the Panthers honest.
"I believe you have to block up front and run effectively through the tackles against them," tackle Chester Pitts said. "If you can manage that, hopefully you can squeak through the cracks and go. It's hard to go sideline to sideline, but if it's there, you have to take it. Both teams played a solid game. They won some match-ups and so did we."
Pitts and his linemates quietly had one of their more effective games of 2003. Carolina's fearsome front four managed just two sacks, both by right end Mike Rucker.
"They are pretty good, especially those two ends Rucker and Peppers," Banks said. "The ends make you have to step up, while their tackles get enough of a push, which means they don't have to blitz a lot. They can play a lot of two man, but when they do blitz, they are able to get pressure with out bringing more than five.
"We faced some tough front fours this year, and they are about as good as we've faced."
And Houston's defense also has to get some credit for the win. Davis racked up 153 yards on 30 carries, but Delhomme struggled after that opening drive, completing just 10 of 20 passes for 147 yards and that pick to Glenn. The Texans couldn't sack Delhomme but they pressured him enough to disrupt his rhythm.
"They are very protection conscious," linebacker Kailee Wong said. "The reason they do such a good job of keeping Jake Delhomme up is because when they pass, which is very few times unlike many other NFL teams, the defenses are still playing the run."
Field position also played a crucial role. Carolina's average drive start was its own 20, meaning Davis and company had a long road to hoe, no matter how successful they were in the ground game.
"Field position played a big part," defensive coordinator Vic Fangio said. "They had a long field most of the day and that obviously helped."
In the end, it was the type of win that head coach Dom Capers relishes, and not just because it came against his former team. The Texans didn't commit a turnover, didn't abandon the run, converted key third downs in the passing game, won the kicking game and were physical against one of the league's most physical teams. All of those components are staples of a Capers-coached team.
         Come to
         think of it, you could also say those components are staples of a
         team coached by Bill Belichick. We'll tackle his group tomorrow.