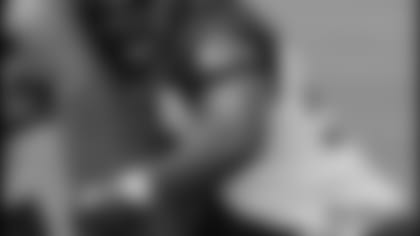 Polk's seek-and-destroy demeanor helped him collect 81 special teams stops in 53 games at Buffalo.
The Texans put a lot of stock into beefing up the offensive and defensive units this off-season with solid free agents and young, explosive draft selections. But not forgotten in the mix was the importance of strengthening the special teams unit.
One of special teams coordinator Joe Marciano's key acquisitions was signing the fiery DaShon Polk, who's bone-crunching 81 special teams tackles during a four-year span in Buffalo has left lasting impressions on many of the league's returners.
Polk attributes his fierce demeanor on special teams as the reason he made the Bills' 53-man roster in 2000 and what has kept him in the league thus far.

But a day hasn't passed in 27 years where Polk didn't work his tail off to reach the level of success he has achieved today. He grew up in the town of Pacoima (pronounced pa-coy-ma), on the outskirts of Los Angeles in the San Fernando Valley, where drugs and run-ins with the law were a daily occurrence for many of the city's inhabitants.

Polk tried to dodge the temptations of trouble by immersing himself in sports. While running the streets could've been an easy escape, he stuck to his guns and pursued athletics, involving himself in baseball, and later basketball and football.
Polk's grandfather raised their large family. His parents separated at a young age, leaving the children to fall under their grandfather's wing.
"It was tough growing up on welfare and having to do a lot of things on your own," he said. "I had to grow up quick, I was running the streets and trying to play ball. Ball is what always kept me out of things. I was always involved in some kind of sport."
His family decided to bus him out of town to attend Taft High School where they believed he would be provided with a better opportunity to flourish in sports and follow the right path off the playing field. So he woke up every morning at 6:30 a.m. to catch a bus that transported him away from town and his designated schooling system to Taft, where classes began over an hour later at 8 a.m.
Polk's coach on the diamond served dual roles as the school's baseball and football instructor. While Polk's skills as the team's outfielder were impressive, his coach also saw future potential on the gridiron for the young athlete. Soon after, Polk was lighting up receivers from the safety position on the football team.
"My baseball coach was also the football coach so he asked me to come out and play football too," Polk said. "I kind of fell in love with that as I got older."
His passion and talent for the sport was recognized by not only his teammates, who voted him as their captain for three seasons, but also by numerous football outlets who awarded him with All-Far West, All-State, All-City and All-Valley team honors.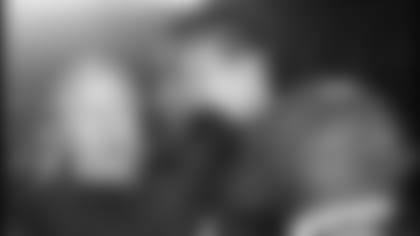 Polk's head coach at Arizona, Dick Tomey, congratulates him after the Wildcats 23-20 win over the University of Nebraska in the 1998 Holiday Bowl.
Always a follower of the PAC-10, Polk was automatically attracted to many of the conference's football powerhouses, but it was Arizona head coach at-the-time, Dick Tomey, who convinced Polk that his playing career would blossom as a Wildcat.
"I think I made the right decision," Polk said about choosing Arizona over many of the closer California colleges. "It was close enough to my home but far enough away that I was on my own and was able to grow up."
Polk saw action in nine games his true freshman season, immediately making contributions from the strong safety position. Because of a position switch during his second year, Polk was redshirted to get an extra season of practice at his new post.
"I came in to college as a strong safety but got too big over the years and they moved me to outside linebacker," he explained. "I was redshirted my second year and I think it was the best decision. It gave me a year to mature and get situated with things and I ended up starting my last three years so I think it was a good thing."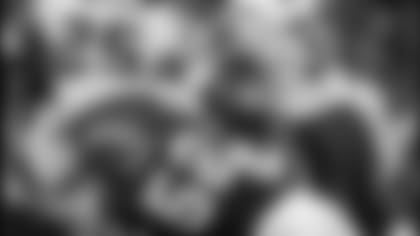 Polk takes down Texans RB Tony Hollings when Houston played his former Buffalo squad. Polk collected two special teams tackles in that contest.
Polk went on to make 36 consecutive starts, tallying 70 tackles and three sacks his senior campaign, 5 ½ sacks his junior year and three sacks as a sophomore.

Evaluating from the professional ranks, the Bills liked his aggressive style enough to select him in the seventh round of the 2000 NFL Draft and from there, all he had to do was beat out a pack of other talented players to remain on the final roster.

It was no easy feat, but Polk excelled and worked hard as a specialist, a position just as important as wide receiver or cornerback.
"I knew my situation and I knew that the only way I'd make the team was by playing special teams," Polk reflected. "That's what's kept me in the league this far. That's why I'm here.
"Joe Marciano kept in contact with me during free agency and just said that they really needed me to come in and help on special teams."
Polk saw action on defense at Buffalo when the unit went into a four-linebacker set. As the fourth linebacker, Polk rotated into the lineup in short yardage and goal line situations. But the speed, intensity and split-second action of special teams was where he found his niche.
"The flying around and the excitement of running down there and hitting people and making a big block is what I like about special teams. It doesn't get as much publicity as offense and defense do, and a lot of times they'll go right to commercial during special teams. But special teams is a really big part of the NFL."
In Houston, Polk's goals playing on Marciano's special teams unit are lofty and ambitious. No. 1, make ESPN SportsCenter's highlight reel, and No. 2, hop a plane to Hawaii in February.
"I'm still looking for that hit," Polk smiled. "I've had a lot of big hits and blocked a lot of people, put them on their backs and blown up wedges, but I still haven't had one of those SportsCenter hits yet. When I get one of those and make it on the SportsCenter Top 10, that's what I'm looking for."
As far as flying over the Pacific?
"My goal is that if I'm not starting, I want to make it to the Pro Bowl on special teams and be the league's best special teams player. That's my role. If I'm going to play on special teams, I'm going to be the best there is."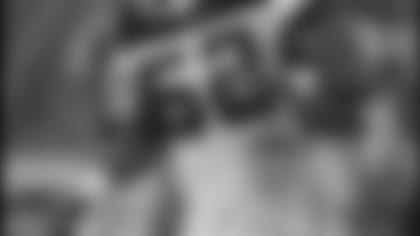 During his four years in Buffalo, Polk was also active in the community, participating in Habitat for Humanity and the NFL/United Way Hometown Huddle program.
With what he's seen so far of his new team, Polk is confident that his successes will be a reflection of the Texans overall attitude, work ethic and determination. While he got a small taste of the squad's rise last season when Houston pulled out a 12-10 victory on Buffalo turf, it wasn't until his arrival to the Texans home in Reliant Stadium that Polk was able to truly grasp what the team has in store for its future.
"I already know that it's totally different from Buffalo," he said about his start in Houston. "From day one in the off-season, everybody on the team was here from the star player to the last guy on the roster.
"I just see the hunger with these players; we have to win and we have to win now. When you see your star players working as hard as they have been here, it elevates everybody else's game."
While Polk has many accomplishments to look back on with pride, he's only just cut into the meat of his career. Whether he's a vital reserve on defense or a special teams force that sends bodies flying across the gridiron during kickoff and punt coverages, Polk is comfortable and accomplished in his role. He's certainly looking forward to joining forces with his new teammates to make football weekends memorable in Houston.
"Going into my fifth year, I've never been the star player. I've been the in-between player, and I'm able to communicate between both sides. Players here know the talent we have and it's just all about doing it out there on Sundays."