Corey Bradford heard the whispers four years ago.
After just one season of college football at Jackson State, the Packers drafted Bradford in the fifth round in 1998, raising some eyebrows amongst the Green and Gold faithful.
But not only did Bradford make the team, he made an impact in Green Bay, despite usually being quarterback Brett Favre's third or fourth option down the field.
Bradford might hear some more whispers now concerning his credentials as a No. 1 receiver. But with a fresh contract in hand, he firmly plans to make an even bigger impact in Houston as the Texans' top receiving threat.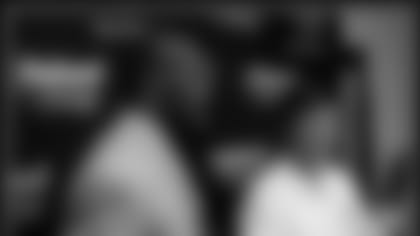 Charley Casserly introduces wide receiver Corey Bradford.
"It's going to be a big step but I love challenges," Bradford said. "One of my challenges coming out of Jackson State was can I make a team after playing just one year of college? I stepped up to the plate and hit a home run and I feel I can do the same thing here."
Bradford signed a three-year deal with the Texans Sunday. His initial visit to Houston was four days ago. Bradford then visited the Lions and also received strong overtures from the team that drafted him. But in the end, the opportunity to be the go-to guy for the NFL's newest team won out.
"They just made me feel welcome," Bradford said.
Bradford amassed 71 receptions for 1,190 yards and seven TDs in Green Bay, despite played just 42 games over four seasons. He played in only eight games as a rookie and missed all but two games in 2000 with a fractured left fibula.
Bradford has displayed a knack for the big play, averaging 16.8 yards per grab and 27.7 yards on his seven touchdown receptions. And the Texans firmly believe his most productive days are ahead of him.
"What Corey does is give us a chance to be explosive on offense," Texans general manager Charley Casserly said. "He was the No. 1 receiver on our free agent board and we feel we're getting Corey at the right point in his career.
"He's just coming into his own. Corey has great speed and the toughest thing to defense is speed."
Now with Bradford, a former track star at Jackson State, at one end of the field and Jermaine Lewis at the other end, Houston can boast two speedsters to stretch the field.
"We have the ability on offense now to score," Casserly said.
After working with a future Hall of Famer in Favre, Bradford doesn't yet know who will be throwing him the ball in Houston. Mike Quinn and Ben Sankey are currently the only quarterbacks on the roster. But Bradford indicated it's up to him to make plays regardless of who takes the snap from center.
"The quarterback gets you the ball," he said. "But it's up to the wide receiver to catch the ball and make plays."
The signing of Bradford wrapped up a busy week for the Texans, one that started in Indianapolis at the league's scouting combine and ended with three key roster holes filled.
"This completes a very successful first week of free agency for us," Casserly said. "We decided at the beginning of free agency that there were three positions that were crucial to our success -- outside linebacker, center and wide receiver.
"I think what you have here is a credit to our owner, Bob McNair, for stepping up to help make this happen."