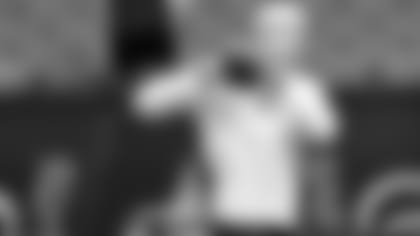 ]( "TE Phillip Supernaw")

Tight end Phillip Supernaw is looking to make a push for a roster spot in year two as a member of his hometown Houston Texans.
Supernaw, who played quarterback at Katy Taylor High School, was undrafted in 2012 out of Division-II Ouachita Baptist University in Arkadelphia, Ark. He started last season on the Texans' practice squad before a foot injury landed him on injured reserve in October.
"I was never exactly well enough, I feel like, to contribute last season, but I'm good to go now," Supernaw said Tuesday on Texans Radio. "Coming from where I came from, for me, I just wanted a shot to try to play in the NFL... I've got to do what I have to do and I've got to show why I belong here."
Before he was shelved by injury, Supernaw (6-5, 250) showed promise on the practice field last season.
"He was my favorite receiver on scout team," Texans quarterback T.J. Yates said Tuesday. "That guy's physical. That guy has got strong hands, runs good routes. He was very raw last year as far as picking up the offense, getting used to it, (but) he's got a lot of talent. I like his fire. He was one of my go-to guys whenever we were playing against the defense on scout team."
Texans coach Gary Kubiak mentioned Supernaw after the draft when asked about tight end Ryan Griffin, the Texans' sixth-round pick from Connecticut.
"Really, when you look at Supernaw coming back and this young man (Griffin), we have a chance to be a little bit more physical at tight end when it's all said and done than we have been, take a little bit of that banging off of a guy like O.D. (Owen Daniels) during the course of the season," Kubiak said.
The Texans were thin at tight end last season, carrying only Daniels and Garrett Graham on the roster. Fullback/tight end James Casey has signed with the Philadelphia Eagles, leaving them even thinner at the position in 2013.
Supernaw, Griffin and Jake Byrne will get a chance to show what they can do this offseason, starting with the Texans' rookie mini-camp that begins Friday.
"I can't get too comfortable by any means where I stand on the team, but I feel good about where I am," Supernaw said. "I feel like I have as good a shot as anybody. Somebody's gotta make the team. Somebody's gotta be the third tight end. Somebody's gotta contribute. I just think to myself, 'Why not me?'
"I know it's a big numbers game and all that, but I just try to keep it in perspective and keep my eye on it, just try to do my best."
Twitter.com/NickScurfield