It only seems appropriate that the Texans' first free agent signing would be, at his core, a true Texan.
Born in Galveston, prepped at Clear Lake and molded into an NFL draftee in College Station, Steve McKinney officially returned home today as a member of the Texans.
"I came to Houston with one goal," McKinney said at his press conference. "And that was to sign with the Texans."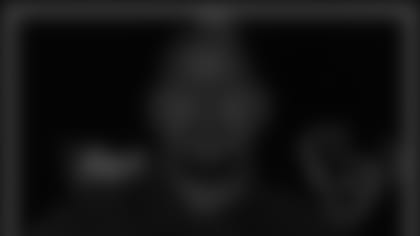 McKinney, who spent his first four seasons with the Indianapolis Colts, signed a five-year contract with Houston. Terms were not disclosed.
"I felt so comfortable here, so at home, during my visit," McKinney said. "Of course, this is my home. It was really a no-brainer."
McKinney joked that he had been working out in Houston with a Texans hat, prompting people to inquire whether he played for the league's newest team. His standard response?
Now he can change his reply to a resounding yes. And his new club couldn't be happier.
"We're excited that our first Texans free agent signing is a Texan," Texans general manager Charley Casserly said. "Steve is a proven player in the NFL. He has started from day one in this league and gives us great versatility because he can play center and guard."
McKinney earned a starting job at left guard during his rookie season and never relinquished it, starting all 60 career games played. The Texans plan to line him up at center.
"Steve brings athletic ability to the interior of the line," Texans offensive line coach Tony Marciano said. "He has the ability to block in space, block linebackers and run and pull."
Marciano was the Colts tight end coach during McKinney's stint in Indianapolis. He doesn't foresee any problems moving McKinney to center.
"We actually talked about moving him while we were in Indianapolis," Marciano said. "It was always in our thought process. Steve has such a high level of technique and fundamentals that the transition shouldn't be a problem."
"I really don't have any concerns," he said. "It's a position I feel comfortable playing. Obviously, I'll have to work at it during the off-season but we have a lot of time between now and the first game."
Right now, Houston's offensive line of Tony Boselli, Matt Campbell, McKinney, Jeremy McKinney (no relation) and Ryan Young can be considered very solid by expansion standards. The quintet can boast 262 career starts out of 294 career games played.
McKinney said he put a lot of stock in the fact Houston is addressing its offensive line in such a swift fashion.
"They drafted Tony Boselli with the first pick in the expansion draft," McKinney said. "If that doesn't set the tone that they're dedicated to building up the offensive line, I don't know what will.
"The quarterback can't throw the ball if he's on his back. You have to protect him."
McKinney was a first-team All-Big 12 selection as a senior for the Aggies. His position coach that season was Texans assistant offensive line coach Steve Marshall. McKinney played defensive end and tight end at Clear Lake High School.
"There are a lot of players from around this area," McKinney said. "That's one thing the Texans are going to have in their favor -- there are guys that are going to want to come here.
"The city, the facilities, the ownership and the coaching are really going to bring a lot of players back to Texas and that is going to help us later on."