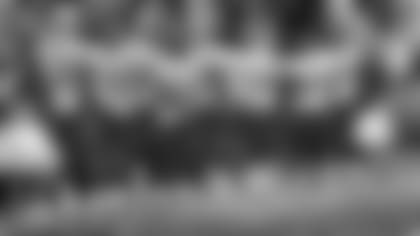 ]( "Texans Pro Bowlers")

KO OLINA, Hawaii – They'd rather be in New Orleans getting ready for the Super Bowl, but the Texans' nine Pro Bowlers are enjoying their time in Hawaii as the NFL's most-represented team.
The Texans make up more than one-fifth of the 43-man AFC roster. Nine Pro Bowlers is a new team record, surpassing the previous mark of five set in 2009. No other team has more than six players at this year's Pro Bowl.
"It's awesome," Texans defensive end J.J. Watt said on Friday after practice at the players' secluded Ko Olina resort, 17 miles northwest of Honolulu. "I walked in the locker room and saw nine helmets lined up. That was pretty cool. It's almost like a Texans takeover in there. Obviously, we'd like to still be playing, but this is a nice consolation."
Watt and cornerback Johnathan Joseph are representing the Texans' defense as starters for the AFC. Seven of the Texans' 11 offensive starters are in Hawaii. Running back Arian Foster, wide receiver Andre Johnson and left tackle Duane Brown were selected as starters, and they're joined by quarterback Matt Schaub, center Chris Myers, left guard Wade Smith and tight end Owen Daniels, an injury replacement for Patriots tight end Rob Gronkowski.
Johnson, 31, is in his sixth-career Pro Bowl. The eight teammates with him this week equals the number of Texans who were selected with him in his previous five Pro Bowls combined.
"It's a lot of fun just to have this many teammates here," Johnson said. "Normally when I came over, most of the time, it's just been me by myself. It's great, man. It's a lot of fun to have all these guys over here."
Hardly a play goes by at AFC practice this week that doesn't involve multiple Texans players. On one play on Friday, Johnson was covered by Joseph as he ran a route downfield. On another, Schaub took a snap under center from Myers, who had Smith next to him on the line. On another, Daniels lined up next to Brown, who's been playing right tackle this week, as Brown went to block Watt to clear a path for Foster.
"It's awesome to hear how much respect we have from guys around the league about how great of a team we have, how great players we have," Brown said. "To have nine guys out here, that says it all."
The Texans' season ended in disappointment with a decisive loss at New England in the Divisional Round of the playoffs, two games short of next weekend's Super Bowl. That came after they started the season 11-1 before finishing 1-3, losing the top seed in the AFC and home-field advantage in the playoffs in the process.
The abundance of Texans at the Pro Bowl, all of whom are under contract in 2013, offers promise for the future. Watt takes it as a sign of the respect that the team has earned around the league -- recognition that is gratifying, but not satisfying.
"I think we obviously have a lot of great players, and it's great to have them recognized like this," Watt said. "But we want to be playing next week. We don't want to be here, so we're working hard to make that happen."
Twitter.com/NickScurfield