You won't usually find a team that turned the ball over four
             times in one game smiling and slapping each other high-fives in
             the post-game locker room. However, if that team forced five
             turnovers and came away with a gut-wrenching 24-20 victory, it's
             a different story.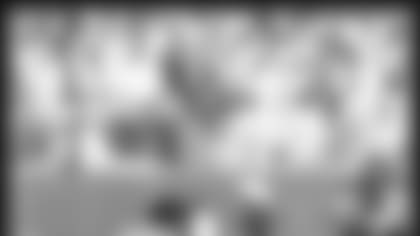 Texans CB Marcus Coleman intercepted one pass and held Jaguars RB Fred Taylor in check during the Texans' come-from-behind win.
Nobody will characterize the Texans' win over the Jacksonville Jaguars as pretty. With a combined total of nine turnovers between the Texans and Jaguars, the game appeared more like a sloppy tennis match than anything else.
Ultimately, the game came down to which team forced the last turnover. Down 20-17 with less than three minutes remaining in the game, the Texans took hold of the reigns.
As Jaguars rookie quarterback Byron Leftwich scrambled for a first-down, Texans strong safety Eric Brown slapped the ball away from him and the Texans pounced on it and gained possession on the Jaguars' 41-yard line. With the lost fumble, the Jaguars ended the game with five turnovers, one more than the Texans finished with.
"When you get two teams that face each other twice a year, you pretty much know what each other is going to do," Texans defensive end Gary Walker said. "It just comes down to players making plays."
The Jaguars' final turnover proved to be deadly. On the Texans' ensuing drive, they marched 40 yards on nine plays to the Jaguars' one-yard line. They capped the drive off with a one-yard touchdown leap from quarterback David Carr to seal one of the Texans' most exciting wins in their brief history.
"It was looking dim there towards the end," Texans head coach Dom Capers said. "We got a great play on a take away and our offense took the ball down and found a way to get the ball in."
The four-point margin of victory marks the third time in three contests that the two teams finished within four points of each other at the end of the game. Last year, the two teams split their season series; the Texans won 21-19 at Jacksonville, while the Jaguars snuck away from Reliant Stadium with a 24-21 win.
With five Texans players and two coaches that are former Jaguars, and five Jaguars players that are former Texans, the rivalry is only heating up. Their next battle will take place in Jacksonville on December 7.
"I couldn't be prouder of our football team," Capers said. "We talked all week about the ability to go out and play for 60 minutes and I don't think we have had a greater example of that than we had today."